Pitch Perfect 2 Is Happening And Elizabeth Banks Is Directing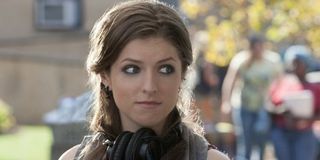 Elizabeth Banks is not going to sit around and wait for you to get your shit together, Hollywood. The multi-talented actress and comedienne has, like many other actresses of her generation, been trapped in thankless girlfriend roles in stuff like Seabiscuit, and Role Models, but she's not going to sit down and take it. She openly lobbied for her role as Effie Trinket in the Hunger Games saga, and originated the premise of surprise hit Pitch Perfect, which she also produced. Now, the stunning Banks (who apparently produced the Bruce Willis actioner Surrogates… wha?) is stepping into a new realm: directing.
Prepare to get Pitch-slapped once again as Pitch Perfect 2 is slated for a 2015 release, and this time Banks will be behind the camera. The actress, who also shows up in the first film as an overzealous commentator, will be making her feature length directorial debut on the film, while also returning to the cast. It will be a full-blown reunion, as Anna Kendrick and Rebel Wilson are also rumored to return, according to THR. The first film's screenwriter, Kay Cannon, is also penning the sequel
Though Pitch Perfect grossed $115 million worldwide on only a $17 million budget, the real cheddar, according to THR, was in the film's ancillary performance. Via DVD and digital download sales, the film collected an additional $135 million from those seeking a totally baller slumber party option, and the soundtrack was certified platinum, with a little under three million units alone moved of Anna Kendrick's single from the film, Cups.
Banks is terrific, but it's hard to be too confident in her as a director. Her level of familiarity with the Bellas will help, and she'll be bringing insight that comes from working with the likes of David Wain, Sam Raimi, Steven Spielberg, Gary Ross, Judd Apatow and Oliver Stone, suggesting she'll have a unique skill set. But Banks' only prior experience has been in directing shorts, like the Funny Or Die clip below. Her segment of Movie 43 where a young girl has her period, is one of the film's most unfunny and Dadaist-unwatchable moments.
There's no word as to the plot of Pitch Perfect 2, though they've probably had a story for quite awhile since Universal has been talking up a sequel early last year.
Your Daily Blend of Entertainment News
Thank you for signing up to CinemaBlend. You will receive a verification email shortly.
There was a problem. Please refresh the page and try again.