Pitch Perfect 3 Is Bringing Back 2 Major Stars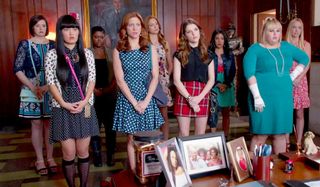 In a move that should surprise no one, Universal Studios announced today that Pitch Perfect 3 is moving forward with a 2017 release date. The Bardem Bellas, consisting of the aca-awesome talent of Anna Kendrick, Rebel Wilson, Brittany Snow and the newly minted Hailee Steinfeld, will return once again for more a capella mash-ups. And it wouldn't be a Pitch Perfect sequel without your two favorite stars.
According to The Hollywood Reporter, Kendrick and Wilson are on board to return for Pitch Perfect 3, which is scheduled for theatrical release on July 21, 2017. The first film earned $115.4 million worldwide and the sequel crushed the box office, currently standing at $259.7 million. Given such success, Universal was apt to continue this franchise.
To commemorate the announcement, Kendrick posted a celebratory photo to Instagram.
Elizabeth Banks, who plays a capella podcaster Gail, directed Pitch Perfect 2, but it's unknown if she will return for the third installment. The only members of the production confirmed to return is writer Kay Cannon, who wrote the first two installments. It's clear that Banks loves this franchise, and she will return to at least produce and, hopefully, reprise her role once again. We'll have to wait until the studio solidifies the behind-the-scenes team.
In Pitch Perfect 2, the Bellas hit a cement wall. After celebrating their victory lap for winning the national a capella competition, the group performed for Barack and Michelle Obama, only to suffer a wardrobe malfunction that flashed Fat Amy's privates to the audience and everyone watching at home. Because of that, they were essentially shut down. Their last hope was winning the world a capella competition, but the reining champs, a German group called Das Sound Machine, stood in their way. To make matters worse, their powerhouse talent, Beca, was pre-occupied with her internship for a big-time record producer, forcing the gals to rediscover their sound.
At this point in the development process, it's unclear where Pitch Perfect 3 will go. But, SPOILER ALERT, we left off with Beca and Emily writing and mixing an original song, Fat Amy dating Bumper and Chloe finally deciding to graduate college. There's opportunity to shake up the casting, given these events, though it's hard to think of a Pitch Perfect film without these characters that've come to define the franchise. We already know what Wilson would like to see happen.