Playboy Director Makes Playboy Movie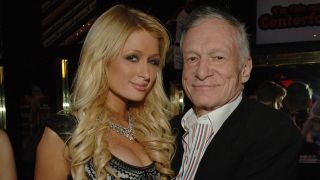 (Image credit: (Photo by Denise Truscello/WireImage))
Brett Ratner has always seemed more interested in making money and dating supermodels than shooting movies, and his sets are quasi-legendary as being great places to hang out and party. Now Ratner, one of Hollywood's most successful and simultaneously hated directors, has finally found a film that's a perfect fit for his unique talent for throwing parties and getting women to show up for them barely clothed. Variety says he's been hired to direct Playboy, a film about the life of infamous softcore porn peddler Hugh Hefner.
This is a movie that uber-producer Brian Grazer has been trying to get off the ground for awhile now. At one point it was envisioned as a musical, and then even Oliver Stone had his mits in it. Now it's been developed as a dramatic screenplay being written by John Hoffman. They have Hugh Hefner's seal of approval for it and they're pushing forward.
So, the question is which part of Hef's life will this be about? Will we see the young, swinging, pipe-smoking, multiple partners Hef or the old, doddering, pipe-smoking, multiple partners Hef? Actually, there's probably not much different. He even wears the same outfit. Just more wrinkles. Ratner says, "Hef came from a puritanical upbringing and reinvented himself to be the godfather of the sexual revolution." Does that mean he'll be taking the political angle with it? This is party boy Ratner after all. But it does sound like he may at least be leaning that direction. Ratner continues, "He also used his magazine to advocate civil rights and free speech, and put James Brown on his show 'Playboy After Dark' when they didn't put black performers on national television. He broke all kinds of taboos, especially in sexuality. I want to show it all, from the First Amendment struggles to his first orgy to the stroke in the 1980s that almost killed him."
Your Daily Blend of Entertainment News