Pride, Prejudice... And Zombies. And Natalie Portman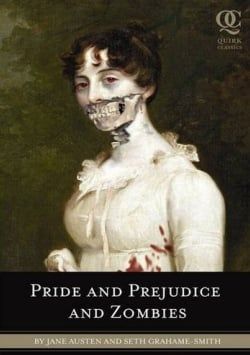 A week ago the notion of Pride and Prejudice rewritten to include zombies was goofy enough that it was a question on the eternally goofy NPR show "Wait, Wait, Don't Tell Me!" Now the book, which hasn't even been released yet, is set to become a movie, courtesy of none other than Natalie Portman.
The Production Weekly mention includes no other details, and the plot description, included below, is pretty much just a description of the book. And yes, the book is exactly what it sounds like-- Pride & Prejudice, with zombies tossed in for good measure. I mean, it sounds awesome, and no film adaptation of Pride and Prejudice has really ever gone awry. Nor would anyone in their right mind turn down a zombie movie. So while it's a bizarre idea for a movie, and not exactly what you'd expect from Natalie Portman, it's hard not to be excited about what this movie has to offer.
The plot description:
"Features the original text of Jane Austen's beloved novel with all-new scenes of bone-crunching zombie action. As our story opens, a mysterious plague has fallen upon the quiet English village of Meryton—and the dead are returning to life! Feisty heroine Elizabeth Bennet is determined to wipe out the zombie menace, but she's soon distracted by the arrival of the haughty and arrogant Mr. Darcy. What ensues is a delightful comedy of manners with plenty of civilized sparring between the two young lovers—and even more violent sparring on the blood-soaked battlefield as Elizabeth wages war against hordes of flesh-eating undead."
Staff Writer at CinemaBlend
Your Daily Blend of Entertainment News
Thank you for signing up to CinemaBlend. You will receive a verification email shortly.
There was a problem. Please refresh the page and try again.