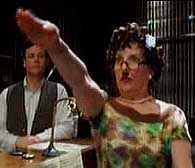 It's one of the more convoluted chains of movie remake/reimagining, but thanks to the fact that it comes from the convoluted mind of Mel Brooks, it just might work. The Producers was a crazy movie about a couple of con artists who try to make a small fortune by creating the worst musical ever, a lively little piece called "Springtime for Hitler". The film was written and directed by Mel back in 1968. Several years ago he converted it into one of the most successful new musicals on Broadway. Now he's getting ready to release again, this time a movie based on the musical which was based on the movie about a musical.
The trailer for this new version of The Producers is available at the Sony web site and it couldn't look any more Broadwayish if it tried. Broadway adaptations are all the rage. Phantom of the Opera, and Chicago have seen big screen conversions and Rent is on its way as well. It's perfect timing for Mel to cash in on Leo and Max a third time. My only question is, will Mel be getting triple the rights?
Nathan Lane and Matthew Broderick reprise the roles they originated in the Broadway show while Uma Thurman and Will Ferrell round out the all star cast. The Producers hits theaters, again, this December. You can check out the trailer by clicking the link below.
Swipe to scroll horizontally
Your Daily Blend of Entertainment News