Quentin Tarantino's Longtime Editor Sally Menke Dies In Los Angeles Heat Wave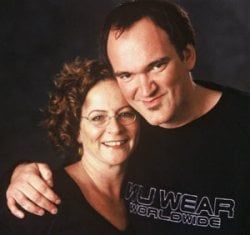 Sally Menke, the editor behind all of Quentin Tarantino's films, died yesterday while hiking with her dog in the 113-degree Los Angeles heat. According to The Los Angeles Times, her body was found early this morning after friends alerted the authorities when she didn't return from her hike. Her dog was found alive.
It's always a tragedy to lose anyone at the height of their creative skill and with so much left to offer-- Menke was only 56-- but that goes doubly so when it's so unexpected. Menke received her second Oscar nomination just last year for Inglourious Basterds (the first was for Pulp Fiction), and it's hard to watch that film without marveling at how the editing enhances it. Think of the long takes in the opening cabin scene combined with cuts between the two actors' faces. Think of the surprising jump in perspective in the basement pub scene, where you realize the German officer has been there all along, listening. An editor's work must often deliberately fade into the background, but Tarantino's films relied so heavily on Menke's work that many consider her his co-author. It's hard to estimate the impact this will have on Tarantino's future work, and honestly, you wonder if his movies will ever feel quite right again.
Our thoughts go out to Menke's family and friends after this shocking loss. If you want to learn more about this woman and her incredible career, Movieline did a great interview with her last year, just before she received her Lifetime Achievement honor at the Hamilton Behind The Camera Awards. You can also watch this video interview below in which Tarantino talks about his work with Menke, calling her his "number-one collaborator."
UPDATE: Scott Pilgrim vs. the World director Edgar Wright wrote movingly about Menke's influence on his own work at his blog, and included clips from a longstanding tradition on Tarantino films: having actors, before and after takes, say "Hi, Sally!" Here's the Inglourious Basterds reel below; it's wonderful.
Staff Writer at CinemaBlend
Your Daily Blend of Entertainment News
Thank you for signing up to CinemaBlend. You will receive a verification email shortly.
There was a problem. Please refresh the page and try again.