Quentin Tarantino Says Batman Is Boring And Wants Alec Baldwin To Play Him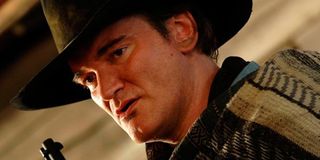 Quentin Tarantino doesn't have a movie coming out this year, nor is he currently working on one, but that doesn't mean he won't do his damnedest to dominate the news anyway. Just after releasing his incredibly premature Top 10 list of the year, which included The Lone Ranger and Kick-Ass 2, he's given an interview to the French magazine Les Inrockuptibles (via The Playlist) in which he sounds off on Ben Affleck playing Batman. Strap in, everybody! It's time for some QT truth bombs!
"I have to admit that I don't really have an opinion," he said about Affleck's casting in the upcoming Batman vs. Superman movie, before proceeding to have an opinion anyway. Go figure.
To be clear, QT is not suggesting that Baldwin should have been cast as Batman now instead of Affleck, though given that the studio is aiming for a "weary and seasoned" take on the character, that could be fantastic. It sounds like Tarantino is imagining a version of Bats as played by the fast-talking, smooth yuppie Baldwin of the Glengarry Glen Ross and Working Girl era-- a Bruce Wayne who's more Gordon Gekko than Christian Bale's moody, tortured version. Watch this famous speech from Glengarry Glen Ross and tell me you can't see it:
In case the idea of an Alec Baldwin Batman wasn't enough to rile you up this morning, Tarantino also took the chance to defend his love of The Lone Ranger, which nearly every critic and audiences alike hated this summer. Tarantino isn't crazy enough to think the whole thing works, but apparently the love all comes down to the big train sequence:
Feel free to share your own thoughts on The Lone Ranger's train sequence, or Alec Baldwin as Batman-- or both!-- in the comments. If you want to ask for more Quentin Tarantino defenses of generally undefended movies, you're welcome to do that too.
This poll is no longer available.
Staff Writer at CinemaBlend