R.L. Stine's Fear Street Is Getting A Movie Adaptation, Here's What We Know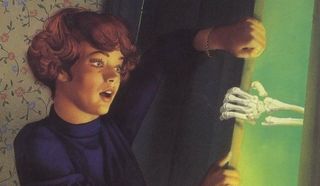 Later this month, R.L. Stine's massively popular Goosebumps books make their big screen debut, and it should be a perfect fit for this time of year given spooky build up to Halloween. But Goosebumps is not the only part of Stine's body of work making its way to theaters, as it is now being reported that his Fear Street novels are also getting the movie treatment.
According to The Wrap, 20th Century Fox is teaming up with Chernin Entertainment to adapt Stine's teen-centric series of horror books and bring them to the big screen. The Fear Street stories are aimed at a more young adult crowd, a bit older than the target demographic of his Goosebumps books.
Like Goosebumps, the Fear Street novels take place in the same world, all set in the fictional town of Shadyside, Ohio, and the characters also change in every book. Still, some continue to live on and are mentioned in subsequent installments, and a few even pop up now and again further down the road. The stories all go down on the titular street, which bears the brunt of a curse that dates back to Puritan times. Apparently a mother and daughter were burned at the stake for witchcraft and the father/husband put a curse on the people who did it, the Fier family (later changed to Fear).
Though some of the Fear Street stories feature ghost and vampires and monsters and other paranormal phenomenon—especially some of the offshoot stories—they aren't all like that. Most were more straightforward murder mysteries and the like, and unlike Goosebumps, which feature occasional deaths, there is a great deal more blood and gore and violence to go along with the more mature intended audience.
The first novel, The New Girl, originally appeared in 1989, and the various incarnations of the series spawned numerous spinoffs, more than a hundred individual titles, and have sold north of 80 million copies. Over the years they've landed on just about every best seller list you've ever heard of, and a few that you didn't even know existed.
Aside from the fact that a movie, and probably multiple movies if it works out, is happening, there aren't many details to be had. It will be interesting to see if Fox and Chernin take a similar approach as Sony did with Goosebumps. Instead of adapting one particular story or other, the film takes place in a world where all of Stine's (played by Jack Black) creations come to life. He then keeps them locked in books in order to ensure everyone remains safe, but when they are inadvertently released, he has to team up with a handful of kids in order to stop the monsters and save their small town from being overrun.
There's no timeline for Fear Street, but it sounds like this is in the very early stages of development. However, if you're in desperate need of an R.L. Stine fix, Goosebumps hits theaters next weekend on October 16, and if that's a hit, Fear Street will probably be put on the fast track.
Your Daily Blend of Entertainment News
Thank you for signing up to CinemaBlend. You will receive a verification email shortly.
There was a problem. Please refresh the page and try again.