Goosebumps 2 Is Happening, Get The Details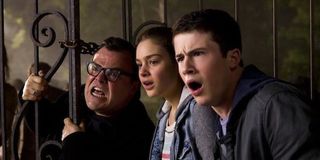 The cinematic version of R.L. Stine's beloved Goosebumps novels doesn't even hit theaters until later this year, but as is often the case in Hollywood, that's never stopped anyone from looking to the future. And in case you were curious, Goosebumps 2 is already in the works.
According to a report from The Tracking Board, Sony is already in the process of developing Goosebumps 2, even though the first family horror-comedy hasn't hit your local metroplex yet. With the release just over a month-and-a-half away, it seems like maybe they'd want to stay patient and make sure they have a hit on their hands, but this isn't a huge surprise. The 181 books published since 1992 have sold more than 350 million copies and been translated into 32 languages, so there is definitely a substantial global market to tap into, and they want to be ready.
The report states that Sony is in the process of tracking down a writer to tackle the script for the sequel, so the planning is still in the very early stages. If Goosebumps does wind up tanking at the box office, they could always pull the plug, but if it is successful, this approach will serve them well, as they will already be a ways further down the production road on the sequel. You can be they'll be ready to turn this around on a dime should the film make money.
It remains to be seen if the director of the first film, Rob Letterman (Monsters Vs. Aliens, Gulliver's Travels), will return for the follow up, but producer Neil Moritz (I Am Legend, 21 Jump Street) is coming back for more.
Instead of adapting one or the other of the original novels, Goosebumps takes more of a meta approach to bringing these monsters to life. The story follows Zach Cooper (Let Me In), a teenager who moves to a new small town with his mother. The neighbor girl, Hannah (Odeya Rush, We Are What We Are), is totally cute, but has a weird dad (Jack Black) who happens to be none other than R.L. Stine himself. It also turns out that all of Stine's various creations are real, but imprisoned in his manuscripts. As you probably guessed, they don't stay that way for long, and it's up to Zach and his pals to return the monsters to the books and save their town from being run into the ground.
Goosebumps hits theaters on October 16, just in time for Halloween, and if the audiences are there, you can bet it won't be too long before we see Goosebumps 2.
Your Daily Blend of Entertainment News