Rachel Weisz Set To Suffer In The Deep Blue Sea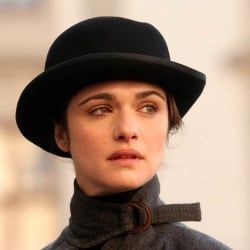 Rachel Weisz-- the most beautiful woman in the world, am I right?-- already has a Best Supporting Actress Oscar on a shelf she shares with Darren Aronofsky somewhere in Brooklyn, but that's not going to keep her from going for the big Best Actress prize. At least that seems to be some part of the motivation behind The Deep Blue Sea, a planned film adaptation of Terrance Rattigan's 1952 play of the same name. According to Deadline Weisz would star for director Terrence Davies as a 40-year-old woman who leaves her husband for an alcoholic ex-fighter pilot, which you can imagine leads to a whole host of troubles that lead to a Sylvia Plath-esque end.
It all sounds very British and tragic, which is also a pretty good way to describe The Constant Gardener, the film that got Weisz her first Oscar nomination. I don't want to accuse Weisz of being totally cynical here-- she's taken all kinds of different roles lately in movies that are clearly passion projects (the little-seen Agora and Brothers Bloom)-- but, well, a famous actress suffering onscreen for two hours is often a pretty short route to the Oscar stage. Weisz also has the Kennedy biopic Jackie in the works, and if either of these giant acting showcases pan out, she could make her way up into the upper-echelon A-list she's deserved to be on all along. Joke as I might about Oscar grabs, I can't think of an actress more deserving.
A final note: the play has been performed with that title since it was written in the 50s, but I assume they'll have to change the name thanks to the LL Cool J shark movie. I know, I too confused my "movies based on plays about suffering housewives" and "movies about giant sharks eating Samuel L. Jackson." It happens to the best of us.
Your Daily Blend of Entertainment News
Staff Writer at CinemaBlend