Is The Raiders Of The Lost Ark Candle The Christmas Gift Of The Year?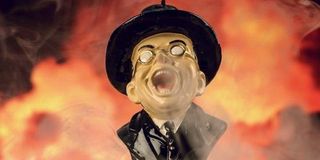 Are you struggling to think of a Christmas gift for a movie-mad pal? Or how about an acquaintance that you don't want to spend dozens of dollars on? Either way, the perfect present has been released and not only is it an ode to one of the greatest scenes in blockbuster movie history, but it's also delightfully gross too.
The face-melting scene from Raiders Of The Lost Ark is rightfully regarded as one of the most nauseating yet compelling conclusions of any film in movie history. And while it has received many homages since Steven Spielberg, George Lucas and Harrison Ford unveiled the world's greatest archaeologist on moviegoers back in 1981, this is probably the most prescient one to ever emerge. Let me introduce to you the Major Toht facing melting candle. You can get a clearer image of the candle before it has been set on fire at the top of the page. However to really get a glimpse of this creation in all of its majesty you should check out the picture below. Because once it has been set alight and starts to melt you actually feel as if the Ark of the Covenant has been opened right before your eyes.
How has this candle not been invented before 2014? Humanity needs to take a long hard look at itself and make sure that we don't make any oversights likes this again. Unfortunately the geniuses behind the Raiders Of The Lost Ark candle weren't able to include quite as much depth as Steven Spielberg and his visual effects team. Not only does it not melt down to reveal a layer of blood beneath Major Toht's skin, but it doesn't even show us his skeleton either. Which is probably for the best, even though it would have been awesome to see. You can check out the stupendous death of Major Toht, Dr. Rene Belloq, and Colonel Dietrich below. Yes, it might not look quite as impressive as the more refined, modern, CGI-enhanced deaths that currently populate the movies, but it is twice as captivating.
According to Toybox, this candle was created by Firebox in the United Kingdom. And while it comes it at the pretty hefty sum of £20, which is around $30, the fact that it is so splendidly terrific means that the company could really have charged any amount that they wanted.
Your Daily Blend of Entertainment News
Thank you for signing up to CinemaBlend. You will receive a verification email shortly.
There was a problem. Please refresh the page and try again.