Read The Real Mark Zuckerberg's Original Facemash Apology From 2003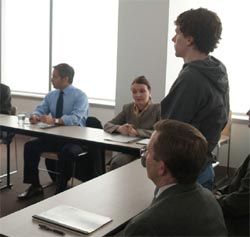 If you had the good sense to catch The Social Network this weekend then you know that Facebook creator Mark Zuckerberg actually got his start by creating a site called Facemash.com. The site used photos of Harvard girls and allowed student to rank them. In the film Zuckerberg is called to task for creating such a tacky site, and he's unapologetic and full of bluster. He references giving an apology in the Harvard newspaper The Crimson, but we never actually see that apology in the film. Luckily, the real life Crimson article he referenced is still online.
The article on Zuckerberg's Facemash transgressions is still on The Crimson's website, dated November 19, 2003, right here and in it the real Zuckerberg apologizes for the site, which many found offensive, this way: "I understood that some parts were still a little sketchy and I wanted some more time to think about whether or not this was really appropriate to release to the Harvard community."
For better or worse, when I read that all I hear is Jesse Eisenberg's voice now. In the article Mark actually stops short of a full apology but does say, "I'm not willing to risk insulting anyone." At the same time he acknowledges the problems of stealing private information for use on his website. He says, "Issues about violating people's privacy don't seem to be surmountable." Yep, that sounds like Mark Zuckerberg.
Check out the entire article on The Crimson's site here and take a look at the truth behind The Social Network's fiction.
Some of the article is even used word for word in the movie's trailers. Read the article then revisit excerpts from it in the trailer below:
Your Daily Blend of Entertainment News
Thank you for signing up to CinemaBlend. You will receive a verification email shortly.
There was a problem. Please refresh the page and try again.