Reese Witherspoon And Tom Cruise Will Fall In Love At The Rodeo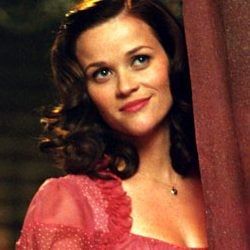 Reese Witherspoon is just one of many Best Actress Oscar winners whose careers have fizzled a bit since the win-- nothing she has done since playing June Carter Cash has matched her pre-Oscar success. So to break the curse, why not return to the same territory? The LA Times is reporting that Witherspoon and Tom Cruise may team up for Paper Wings, a romance set in the world of rodeo.
And not only will Witherspoon be donning a country-western outfit again, she'll also be playing a singer. Cruise's character is a rodeo champ who falls for Witherspoon's country singer character. As the LA Times notes, rodeo movies have never been a particular Hollywood success, unless you count the brief rodeo scenes in Brokeback Mountain. Then again, everyone's been listening to the Crazy Heart soundtrack for months now, so maybe some of that country twang has seeped into our blood.
For reasons of production companies and studios, Seven Pounds and The Pursuit of Happyness director Gabrielle Muccino is a strong contender to direct the film. Now I know probably none of you saw Seven Pounds-- it only grossed $69 million domestic, which is like pennies for Will Smith's wishing well-- but I am here to tell you, that movie was a disaster. Muccino may be anxious to prove himself again, but seriously, after the "Do not touch the jellyfish" moment in that movie, I'm not sure I'm willing to give it. Can't Crazy Heart director Scott Cooper just step in and handle this?
Staff Writer at CinemaBlend
Your Daily Blend of Entertainment News
Thank you for signing up to CinemaBlend. You will receive a verification email shortly.
There was a problem. Please refresh the page and try again.