Remembering Adam Yauch, Who Championed The Indie Films No One Else Would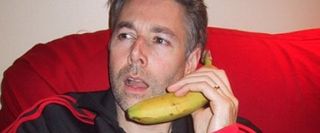 The one time I saw Adam Yauch, who died today at age 47, in person, it was not at a Beastie Boys concert. It was at an office in New York City just after a screening for The Messenger, the harrowing drama about soldiers charged with informing families their loved ones have been killed in combat. The reception was one of many Oscilloscope Laboratories would throw in hopes of securing a Best Supporting Actor Oscar nomination for Woody Harrelson, and Yauch, who founded Oscilloscope, was presumably there to impress attendees with his starpower but also schmooze, like any studio head would do.
He had a long scar on his neck, a clear remnant of surgery for the thyroid cancer he made public in 2009. But he was vital, gray-haired but still seeming as young and potentially mischievous as ever, suited perfectly as the head of a distribution company that was unlike any other. By founding Oscilloscope, Yauch made a home for dozens of movies that never would have found distribution elsewhere-- and not only did he get them out there, he helped them thrive. They eventually did get that Oscar nomination for Woody Harrelson, and further established Oscilloscope as the home for beautiful, difficult indies that few else would dare touch.
With Yauch at the helm, Oscilloscope showed audiences films unlike any they'd ever seen, from the devastating and personal documentary Dear Zachary: A Letter to a Son about his Father that was one of their first releases to We Need To Talk About Kevin, their most recent. They picked up tiny foreign films, like Michel Gondry's documentary about his aunt, The Thorn in the Heart, or the oddball Finnish film about Santa Claus, Rare Exports: A Christmas Tale. They championed tricky documentaries, like the Israeli Holocaust doc A Film Unfinished or Banksy's heralded, Oscar-nominated doc-- or maybe it was just a prank?-- Exit Through The Gift Shop.
Every time a press release hit my inbox announcing an Oscilloscope acquisition, it was bound to be a festival hit I'd been crossing my fingers to see released, or a film I'd never heard of at all. Even the stock quotes in the press release were worth reading-- check out this bit from their acquisition announcement for the marital drama Monogamy:
Yauch wasn't a brash, larger-than-life figure like Harvey Weinstein or so many of the filmmakers he represented, but he didn't need to be-- he was MCA, and the inimitable power of the Beastie Boys made him a titan by default. But he didn't rest on his laurels, either, building Oscilloscope into a distributor with a clear, hugely valuable role in the indie film world, consistently picking up films that were weirder, but often better, than most everything else out there.
Yauch's legacy in music is more than secure-- he and the Beastie Boys were inaugurated into the Rock and Roll Hall of Fame earlier this year, as just one bit of proof-- but his role in film distribution may turn out to be even more important after his death. Oscilloscope Laboratories will surely carry on and thrive without him, difficult as it may seem now, and carry on his passion for championing films that are passionate, unique, and challenging. Those of us who love movies are so, so lucky that Adam Yauch shared that love. He will be missed terribly.
For more on Adam Yauch and movies, and maybe a much-needed laugh, check out his picks for the Top 10 Criterion DVDs.
Staff Writer at CinemaBlend