Remembering The Mighty Ducks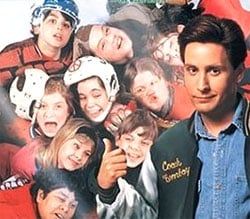 Everywhere you go, people have sports on the brain this week, but I've never been one for pigskin. Instead give me cold, hard rubber. When people talk about the greatest sports movies of all time, there's one movie that never gets mentioned. Ok, it's probably because it's a schmaltzy Disney flick and it stars a bunch of kids. But if you were under the legal driving age in 1992, no movie rocked your sports world more than The Mighty Ducks.
It was one of the last products of a different time for Disney, a time when making family movies wasn't just a way to turn a quick profit on DVD but a major movie going event. Like a lot of kids in 1992, I watched The Mighty Ducks over and over and over again. It launched me into a lifelong love affair with hockey and soon I was sticking tinfoil on my rabbit ears in an effort to pick up games (no easy feat in hockey barren Central Texas) and rummaging through local stores in our tiny Texas town trying to find a decent hockey stick. Years later, when a minor league team moved into the area, I was first in line to work at the stadium, and in my late teens spent happy weeks earning a paycheck while I simply sat and watched hockey. I probably should have been looking for a better job instead. If only I could skate worth a damn. I've got a wicked wrist shot.
I know I'm not alone, ask anybody who was still a kid in the early 90s and they'll tell you the same… The Mighty Ducks was special. If you can believe it, the sequel D2 was even better. The highs were higher, the lows were lower. By 1996 there was a third film, but by then the magic was lost. Still, the original still contains that same magic that got things started, the magic that filled up pee-wee hockey leagues around the country and prompted the Walt Disney company to buy their own hockey team in Anaheim and name it in honor of the kids in their movie "The Mighty Ducks".
Ducks is the kind of movie that never goes away, it's always playing somewhere on your cable box. Lately both the original and the first sequel have been running on Showtime, and if you're like me you've been unable to avoid tuning in. It's the kind of movie you just have to see again.
Now though, we're all grown up and sadly less prone to well… enjoying lovable, epic kids' hockey movies; which got me thinking… where are those Ducks? After Gordon Bombay's epic coaching you'd expect them all to have grown up into incredibly successful hockey players. So I went looking, and here's what I found. This is where the original Ducks are now.
The Mighty Ducks: Where Are They Now?
Gordon Bombay -A big shot lawyer and former pee-wee hockey star who reluctantly becomes the team's coach, after getting a DUI conviction and being forced to do so as a condition of his community service.
Played by Emilio Estevez - The 90s belonged to Emilio Estevez, but since 2000 he's been taking it comparatively easy. In 2006 he wrote and directed Bobby, his first written and directed by since Men at Work way back in 1990. No, this time his brother Charlie Sheen wasn't in it. Bobby received a solid critical reception, but 46-year-old Estevez seems to be in no hurry to follow it up with anything. The most talented Sheen brother stays out of the limelight these days, feel free to imagine him on a beach somewhere frolicking with supermodels in a much deserved, early retirement. If you miss him, go rent Judgement Night.
Hans - The wise old skate sharpener who lurks in some non-specific place near the hockey rink. He advises Gordon to take it easy on the kids and use fun to teach them how to fly like ducks on the ice. He's sort of like the team mascot.
Played by Joss Ackland - Now 80 years old, Ackland continues to work steadily on the big, small, and even smaller screens. The English born actor is insanely busy, appearing in an average of four film or television projects a year. Notably he was recently in the television adaptation of Terry Pratchet's "Hogfather", where he played the notorious wizard Mustrum Ridcully. His next project is a movie called The Best Years, where he'll star opposite former Middle Earther Billy Boyd. No retirement for Hans.
Lewis - Originally hired as Gordon's limo driver, he's soon pressed into work as the team's somewhat bewildered van driver and permanent cheering section.
Played by M.C. Gainey - Gainey was and is one of Hollywood's busiest and most sought after character actors. In 2005 he had a major role in The Dukes of Hazzard movie where he played Roscoe P. Coltrane. Alright, that was a mistake. But aside from that he's got a great career going. He was last seen as Hal in Mr. Woodcock, and expect to see him in no fewer than four different films in 2008, including All About Steve opposite Sandra Bullock and Crossing Over with Harrison Ford, Sean Penn, Ray Liotta, and Ashley Judd. Gainey gets better with age.
Charlie Conway - The heart of the team, Charlie is hardworking, kind, and honest. It's like he stepped right out of a Highlight's magazine. He's far from the Ducks' best player, but he is their best team player. Or, maybe it's just that Gordon starts dating his mother and so he has to give the kid a lot to do even if he's not very good. Whatever Bombay's reason for keeping him on the team, Charlie's the Duck you most identified with.
Played by Joshua Jackson - Aside from Emilio Estevez, Jackson's the Duck who went on to the most post-D success. You probably know him from TV's Dawson's Creek. Since the show's merciful cancellation, he's attempted to redeem himself for playing Pacey and started up a nice little career in respectable movies. In 2006 he reunited with coach Bombay when he played a major role in the Estevez written and directed movie Bobby. Later this year you'll be able to see him in Battle in Seattle opposite Charlize Theron, and he's rumored to be in the running as Chevy Chase's replacement in a new Fletch movie… assuming it ever gets off the ground. 30-year-old Jackson still hasn't gotten over his love of hockey, and is frequently spotted on the ice in celebrity hockey tournaments, or in the stands for NHL games.
Fulton Reed - Fulton doesn't join the team till halfway through the movie when Coach Bombay finds him shooting outrageously hard slapshots in a back alley. Unfortunately Fulton doesn't know how to skate, but after a rollerblading lesson through a mall, he's a pro. It's not long before Reed is a star player on the Ducks. He's their team enforcer and the guy they go to when they want someone to shoot a puck so hard it rips a hole in the net... literally.
Played by Elden Henson - Elden continues to work steadily as a character actor. He's had major roles in recent films like The Butterfly Effect and Deja Vu. Later this year you can see him in The Hill, a romantic drama about college friends who graduate from NYU the year 9/11 happens, and then reunite seven years later.
Greg Goldberg - He goes by the name Goldberg, and he's the pee-wee league's trash talkinest goalie. One problem though… he's afraid to get hit by a puck. Coach Bombay solves the problem by tying him to the goal and taking slapshots at his nuts. In the morning Goldberg wakes up as a pint-sized Dominik Hasek, or something like it.
Played by Shaun Weiss - Weiss continues to work as an actor on television and in film. Though let's face it, his career was a lot better before he grew up. In the 90s Goldberg's face was everywhere, and you probably leaped out of bed in your feetie pajamas and cheered when you saw him on shows like Boy Meets World and Saved By the Bell: The New Class. He also worked with the great Judd Apatow, making regular appearances on his unfairly cancelled, brilliant TV show Freaks and Geeks. These days you'll find Weiss showing up for single episode stints on shows like Crossing Jordan or in commercials for Captain Morgan's rum. Weiss currently lives in London, Ontario with his wife Shannon, who almost certainly doesn't call him Goldberg… unless she's feeling frisky. I'm just guessing.
Lester Averman - Also sometimes inexplicably known as Dave Averman, most of the time he just goes by Averman. He's the team nerd, the kid in glasses with a penchant for quoting movies and doing incredibly lame impressions. Averman is always good for a laugh, and the Ducks rely on him to lighten the mood in the room.
Played by Matt Doherty - Doherty is still out there acting. Aside from being in all three Mighty Ducks movies he's also been in major movies like So I Married an Axe Murderer and Ghost World. More recently he's been working in television. Last year you might have seen him as Corey Burton on CSI: Miami. Or maybe not. As you can tell from his picture, Averman has changed a lot. Aside from acting, he's working a career as a playwright. His new play "Mr. Baseball" is now running off Broadway in New York at the Sideway Theater. And when not doing that, he's in a band. Everybody wants to be a rockstar, even Averman.
Jesse Hall - He's the least trusting Duck, and the one that it takes Coach Bombay the longest to win over. You probably remember him as the kid with a penchant for calling people he doesn't like "cake eater". Jesse's one of the team's leaders, but also something of a malcontent. It's he who leads a mid-season revolt against Coach Bombay when they discover that Gordon has brought in Adam Banks, a rival player, to join the Ducks.
Played by Brandon Quintin Adams - Brandon had a big career as a child actor, both before and after becoming a Duck. He followed up the first Mighty Ducks movie with a starring role in The Sandlot, another significant kids play sports movie from the early 90s era. These days he's a little less busy, and aside from voice work in the popular videogame Kingdom Hearts back in 2005, he hasn't done much acting. Instead, the 29-year-old is trying to make it as a rapper, and goes by the name "B. Lee".
Adam Banks - The Ducks only really elite, skilled player, Banks starts out as the top scorer for their arch rival the Hawks but is transferred to the Ducks when Coach Bombay discovers he lives in their district. At first the team is slow to accept Banks, but eventually he becomes a critical part of their core as the team's best player.
Played by Vincent Larusso - After making it through all three Mighty Ducks movies, Vincent left acting entirely. He graduated from Boston University's School of Management and went to work as a waiter in dive bars in Boston and LA. Recently though, he has returned to acting, appearing in commercials and starring in the independent film Damaged Goods.
Connie Moreau - She's the only girl on the team when Coach Bombay first takes over, but the Ducks treat her like one of the boys. Connie is a solid player and one of the team's most upbeat members. The movie hints at a romance between her and teammate Guy Germaine.
Played by Marguerite Moreau - Marguerite graduated from Vassar College while working steadily as an actress in both film and television since being a Duck. She's had major roles in everything from Queen of the Damned to TV's Lost, where she played Starla in the episode "Everybody Hates Hugo". Later this year you can see now 30-year-old Marguerite starring in the horror-thriller The Uninvited.
Guy Germaine - May be the team's best player next to Adam Banks, but he's not very well developed off the ice until later Ducks sequels. When not on the ice scoring goals, he's probably best remembered as Connie's boyfriend. His biggest contribution to the team comes when he advises Fulton to use "soft hands" when shooting his often wildly inaccurate, super-hard shots. Following his advice results in Fulton making a game winning goal.
Played by Garette Ratliff Henson - Garette took a break from acting not long after being a Duck. But in recent years he's made a comeback, appearing on television in episodes of shows like Navy NCIS. He's just finished work on a film called The Mannsfield 12, due to be released later this year. There were rumors that he married and fathered a child with his Ducks costar Marguerite Moreau (who played his girlfriend Connie), which have never been confirmed. He's also rumored to have gone on to actually play minor league hockey in Burbank after starring in The Mighty Ducks.
Peter Mark - He's Jesse Hall's best buddy and the team's pint-sized tough guy in a leather jacket. Peter is also something of a snoop, with a tendency to overhear conversations and misinterpret everything he hears.
Played by J.D. Daniels - One of the youngest Ducks castmembers, JD worked steadily as a child actor throughout the 90s, showing up in guest spots on numerous sitcoms. After 1999 he left film and television for work on Broadway, where he appeared in Les Miserables and won the LA Drama Critic's Circle award for his work in Conversations With My Father. Now at the age of 27 he's returned to film, and has just finished shooting a movie called Staten Island, in which he stars.
Dave Karp - He's basically the team's obligatory, fat, white kid. Dave is just sort of there. He stands around in the background of every scene, chimes in with the crowd. It's no surprise that this, the original film, is his one and only appearance on the Ducks.
Played by Aaron Schwartz - Aaron actually went on to star in Heavyweights a few years later, putting his fat kid persona to get use. After Heavyweights he sort of dropped off the map. There are unconfirmed rumors of drug problems and even a crazy rumor on IMDB which claimed he was dead (later proven to be false), but nothing concrete on Aaron except this: He lost a lot of weight. Now 27, Dave Karp was last seen skinny, happy, and living in New York City.
Tammy Duncan - She's recruited to the team halfway through the movie by Coach Bombay. Originally a figure skater, she puts her twirls to use scoring goals. It's hard to hip check her when she's triple-axling over your head.
Played by Jane Plank - Jane's acting career basically began and ended with The Mighty Ducks, though she did go on to do work in modeling and commercials. Later, she graduated from college with a minor in music, and now she's a singer. She recently recorded her first album of gospel/folk music. Hear her stuff on Myspace.
Tommy Duncan - Tammy's red-haired little brother. He rarely leaves Tammy's side and it's Tommy who convinces her to switch from figure skating to hockey.
Played by Danny Tamberelli - Danny worked steadily in bit parts as a child actor in the 90s after being a Duck. He's probably best known as little Pete from the mid-90s Nickelodeon show The Adventures of Pete & Pete . More recently he appeared in Igby Goes Down and has done work in commercials. Outside of acting he graduated from Hampshire College where he studied music. He's also the vocalist and bassist for a jam band called Jounce.
Terry Hall - A very minor player in the Ducks. He's Jesse Hall's little brother. He's always at his brother's side, and wherever Jesse goes Terry follows.
Played by Jussie Smollett - Jussie had small roles in a few other films, but by 1995 he was out of acting and dropped off the radar.
Coach Bombay Meets The Team
Your Daily Blend of Entertainment News