Reservation Road Trailer Kinda Online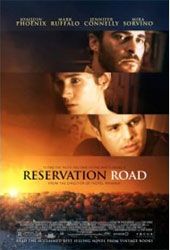 I have no real idea what to think about Reservation Road, the revenge driven drama that starts Joaquin Phoenix and Mark Ruffalo. The movie looks like all too typical Oscar-fodder along the lines of Mystic River on paper. I can't tell you how it looks on video because, even though a trailer has appeared online for the movie, I can't seem to get the darn thing to play that well.
After getting called out on comments I made about another site's video player last week, I've updated all my software and attempted everything I can to get the Amazon streaming video player to give a decent picture quality, but it just isn't happening. I've tried on a couple of different systems too, so I feel quite confident that the issue here isn't 100% on my side of things.
Regardless, some people seem to have no trouble seeing the trailer, so spin the chamber and put the barrel to your head. You might get lucky. Check Out the trailer for Reservation Road if you can (opens in new tab).
Your Daily Blend of Entertainment News
Thank you for signing up to CinemaBlend. You will receive a verification email shortly.
There was a problem. Please refresh the page and try again.