Richard Linklater May Take Over Incredible Mr. Limpet Remake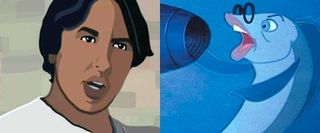 We've written twice before about plans for a remake of the 1964 Don Knotts film The Incredible Mr. Limpet, and both times the news hasn't gone anywhere, so take this latest story with a grain of salt. According to The LA Times, Warner Bros. is close to offering the remake directing job to Richard Linklater, the indie filmmaking stalwart behind Dazed & Confused and Before Sunrise who has met with the studio several times about the project.
Though at one point last year Zach Galifianakis was in talk to play the role Knotts originated, as a man who turns into a fish and helps America fight the Nazis, the actor no longer seems to be attached. Given that the original film combined live-action and animation in a way that seemed revolutionary at the time, Warner Bros. likely wants Linklater on board for his own experience in animation thanks to Waking Life and A Scanner Darkly. It seems unlikely he'd use the same rotoscope realism technology seen in those films, but the fact that Linklater is both a good storyteller and someone interested in new animation technology makes him a surprisingly good fit for the material, even if he's never made anything resembling this kind of family film.
Again, we've reported before that this movie was happening, and there doesn't seem to be any timeline in place to put the movie in production. Still, Linklater seems like a good guy to take this on, and one of the few directors who could sign on for this and actually make me interested. If this news pans out we may actually have something to look forward to from a remake that initially seemed totally unnecessary.
Your Daily Blend of Entertainment News
Staff Writer at CinemaBlend