Ricki And The Flash Trailer Has Meryl Streep Rocking Out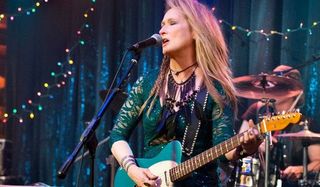 It's the most predictable thing to say in movies, but Meryl Streep kind of rocks. Even when she appears in lame dramas from John Wells, or as an over the top witch in a musical, she can't help but get nominated for an Academy Award. Streep looks to embrace her rock 'n' roll spirit with her latest film, Ricki And The Flash, which sees the award-winning actress star as a musician looking to reconnect with her family. You can check out the film's debut trailer below.
First things first: whoever created the debut trailer for Ricki And The Flash needs to be severely reprimanded, or at least heavily poked in the eyes, because not only does it give the entire plot away, but it's drenched in melodrama that completely overwhelms the positive elements of the film.
Ricki And The Flash revolves around Streep's titular musician, who abandoned her family in favour of attempting to become a world-famous rock star. That plan failed miserably, and after her daughter, Julie (Mamie Gummer), goes through a difficult divorce, she is beckoned back to Chicago by her ex-husband, Pete (Kevin Kline), to help her daughter overcome her strife.
Of course, the main attraction of Ricki And The Flash is Meryl Streep. It should be so easy to hate Streep. Everyone in the world adores her and lavishes her with praise to such a degree that it should be impossible for her to live up to, but time and time again she delivers groin-grabbingly transcendent performances that you can't help but marvel at and fawn over.
Even in the hacky trailer for Ricki And The Flash she delivers some knockout lines that are heartfelt, layered, and infused with emotion and suspense in a way that no other actress could even fathom. Plus, she also talks about her pubes going grey, rocks out on stage to "Drift Away," is repeatedly lambasted for being an absentee parent, and shows off the most patriotic tattoo in movie history. Seriously, even Uncle Sam would wince at that.
Woeful trailer and Meryl Streep aside, there are two further reasons why Ricki And The Flash might be worth seeing: it's directed by Silence Of The Lambs' Oscar-winning director Jonathan Demme and written by Juno's Oscar-winning screenwriter Diablo Cody. Plus, Streep stars opposite her own daughter, Mamie Gummer. And who are we trying to kid, she'll probably end up being nominated for another Oscar for her performance anyway. Ricki And The Flash sneaks into U.S. cinemas on August 7, 2015.
Your Daily Blend of Entertainment News
Your Daily Blend of Entertainment News
Thank you for signing up to CinemaBlend. You will receive a verification email shortly.
There was a problem. Please refresh the page and try again.