Robert Downey Jr. Abandons Cowboys & Aliens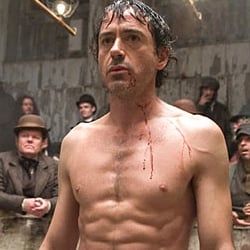 When news broke last week that Jon Favreau would be ready to get started with Cowboys & Aliens as early as this summer, we were all optimistic that he'd be making the film with his Iron Man 2 star Robert Downey Jr. But according to The Los Angeles Times is reporting that it's not meant to be-- Downey Jr. has left the project.
Favreau is still on board and production is still set to start this summer, but Downey Jr., who is constantly overextended, will presumably be starting something else-- maybe a Sherlock Holmes sequel? Honestly, as much as I like Robert Downey Jr., it's not necessarily great to see him in every movie that comes out. Dreamworks presumably wants to make a franchise out of the Cowboys & Aliens graphic novel adaptation, which would make three major franchises for Downey Jr. alone. He's a likable guy and all, but maybe we should give him a slight breather from having to single-handedly save the movie industry every year.
Staff Writer at CinemaBlend
Your Daily Blend of Entertainment News
Thank you for signing up to CinemaBlend. You will receive a verification email shortly.
There was a problem. Please refresh the page and try again.