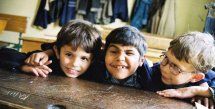 There are just not enough Romanian dramas in theaters these days. Off-hand I can only think of….none. Martin Scorsese and Wim Wenders (who you may have heard of) and Film Movement (who you probably haven't) are trying to increase the number of Romanian dramas seen by North American audiences by bringing us The Way I Spent the End of the World in early 2008.
Hollywood Reporter says that Film Movement will provide an exclusive release to its DVD club members next month before a limited theatrical release at the beginning of next year. I guess Romanian films executive produced by Scorsese don't pack them in the way they used to.
The film is the story of a teenage girl who accidentally breaks a statue of dictator Nicolae Ceausecu during his rule. She is prosecuted and ends up leaving the country. Her seven-year-old brother plots to assassinate the leader with his buddies. Doroteea Petre who plays the girl won a best actress award at the 2006 Cannes Film Festival.
Your Daily Blend of Entertainment News