Ron Burgundy Getting A Journalism School Named After Him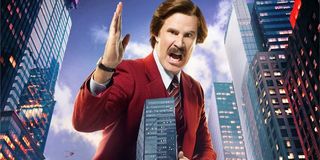 When Ron Burgundy promised "I'm kind of a big deal" in the original Anchorman, he was being a pompous jackass. But as the hype surrounding the upcoming sequel Anchorman: The Legend Continues gets louder and louder, there's no denying it: Ron Burgundy is everywhere and people are loving it. People even trust Ron Burgundy so much these days that they're willing to let him ruin-- uh, I mean educate-- the future anchormen and women of tomorrow.
At least it's only for a single day. According to The Hollywood Reporter Emerson College's school of communication will, for December 4, be renamed the Ron Burgundy School of Communication. The rebranding comes along with a visit from Will Ferrell in character as San Diego's finest newsman, and he'll be participating in a news conference, a renaming ceremony and a screening of Anchorman: The Legend Continues. College president Lee Pelton said that Ron Burgundy "understands the power of media, as well as hairspray, firsthand," while Emerson College students are reportedly falling all over themselves and only capable of shouting "I'm in a glass case of emotion!" between now and December 4.
A visit from Ron Burgundy would have been about the best thing that could have happened to my college in 2005, when Anchorman was still a cult hit and a friend who could tell you that "milk was a bad choice" was someone in the know on one of the best under appreciated comedies of our time. Now that Anchorman is a hit that's granted a big-budget sequel and huge marketing tie-ins, does it still have the same underground appeal to college kids? Maybe not-- but that doesn't mean the hype around Will Ferrell coming to campus won't be able to mask it anyway.
The influence of Ron Burgundy continues on, and will even after his School of Communications has sadly come to an end. Reunite with your favorite newsman when Anchorman 2 comes to theaters on December 20. In the meantime you can find Ron Burgundy still pitching for Dodge Durangos, and in the latest trailer for the movie; both videos are below.
Staff Writer at CinemaBlend
Your Daily Blend of Entertainment News
Thank you for signing up to CinemaBlend. You will receive a verification email shortly.
There was a problem. Please refresh the page and try again.