Ron Livingston Heads Back To The Office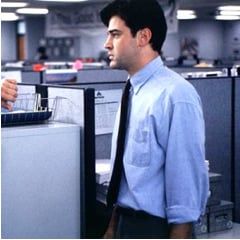 Ron Livingston's most famous role was set in a deadening office years before The Office made it hip, so it makes sense that he's returning to the well with his next movie. He'll star in the indie comedy The Company Men, which Variety describes as the story of "an aging businessman who struggles with a collapsing economy as he tries to save a sinking company."
Wow, doesn't that sound hilarious? Of course, there probably didn't seem to be a lot of comedy potential in the story of depressed office workers and a T.G.I Friday's waitress, which might explain why Office Space got treated so poorly when it was released. Maybe with the passage of time and the cult status of Office Space, whoever releases Company Men will recognize the appeal of seeing Ron Livingston as a sad office sack. Maybe it won't be a stretch, but damn if that's not what he's good at.
Staff Writer at CinemaBlend
Your Daily Blend of Entertainment News
Thank you for signing up to CinemaBlend. You will receive a verification email shortly.
There was a problem. Please refresh the page and try again.