Rosario Dawson Gets Explicit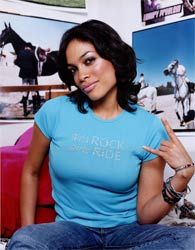 Take Rosario Dawson, place her in a movie about drugs and poverty as the mother of an asthmatic son. Now toss in some Michael Moore – the woman has no health insurance. The result? Not quite what you expected. "It's uplifting." says actor-turned-director Mark Webber (Broken Flowers).
That's uplifting? Let's hope the Webber manages to get his intent on screen with his first picture, explicit ills, because a down-on-her-luck mother who can't even care for her medically-challenged son doesn't exactly sound like a laugher to me.
The first time director's picture starts filming this week in Philadelphia, reports Philly.com. Dawson is the big name amongst a cast of decent, yet less recognizable names: Paul Dano (Little Miss Sunshine), Naomie Harris (Pirates of the Caribbean: Dead Man's Chest), and Lou Taylor Pucci (Thumbsucker).
For a woman best known for Clerks II and Sin City, Dawson really is becoming a name that's sticking around. Now that she's done some bigger roles that demand less of her acting abilities (MiB II), it just makes sense for her to expand into independent movies like explicit ills to show off what she can do. If she keeps this up, Dawson could have quite a lasting career. Of course, that's assuming Webber pulls off what he's attempting with his picture.
Your Daily Blend of Entertainment News