Rose Byrne To Star In Space Comedy The Something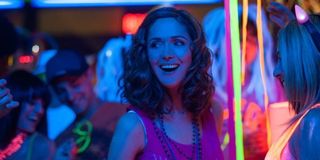 Deep space is a terrible place, devoid of life or oxygen. As we have seen in many films before, it can be quite scary - but now a few people are getting involved in turning this perception around with The Something, a comedy about astronauts lost in space. Fortunately, they're pursuing one of the hottest comedic leading ladies in the industry to lead this mission and re-brand space as a gosh-darn fun place to be.
Rose Byrne is settling in to starring in The Something, according to The Hollywood Reporter. The movie, which sounds absolutely un-Google-able, follows a group of scientists in their adventures across the stars, likely dealing with petty interpersonal conflict and dopey scientific mishaps. Space is the new place for comedy! Or something...
Disappointingly, it seems like Byrne is only playing a "love interest," described in the trade report as "an approachable beauty, though she hates being approached." Now, I'm no scaredy cat, but I'm not sure in which galaxy Byrne's beauty is "approachable." Of course, this is a space comedy, so maybe they go to that galaxy. Regardless, Byrne is not only super gorgeous, but has a hot streak going on, having popped up in 2011's Bridesmaids, this year's Neighbors and and being set for 2015's Melissa McCarthy vehicle Spy. She's also in this year's Annie as well as This Is Where I Leave You. Lest we forget, there's also five seasons of Damages on that resume, where she earned two Emmy nominations. And she stole last year's forgettable I Give It A Year.
She's also pretty damn hilarious in Get Him To The Greek. Here she is as Jackie Q., singing the hilariously ribald, Ring Around My Rosie. This is going to be stuck in your head all day.
The film is currently at Universal, and it's expected that other big names will soon begin to join the cast. This is the directorial debut of Rodney Rothman, who served as a head writer on The Late Show With David Letterman before earning screenplay credits for both Grudge Match and 22 Jump Street. No doubt the studio is capitalizing on that Neighbors heat, as that film has gone on to gross $209 million worldwide with plenty to come beyond that. Maybe they'll get Rogen to re-team with Byrne?
It would be cool to see Byrne in the lead role, however. It's always a bit disappointed to see a character listed as "the love interest" in a film because it objectifies that character and actor, and it most often than not means that she will be largely be defined by her relationship with the lead instead of having her own personality. Hopefully, Byrne isn't playing second banana in this: she's earned enough industry clout that she could reject flimsier roles. Hopefully she now has the reputation to toss that in producers' face and take on bigger and better parts.
Your Daily Blend of Entertainment News