Rosemary's Baby Remake Confirmed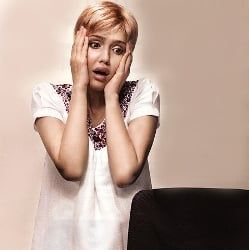 You heard it here last week, and now The Hollywood Reporter has confirmed the most depressing rumor in the world: Michael Bay is remaking Rosemary's Baby.
Well, he's helping remake it--he'll just be a producer, along with Platinum Dunes partners Andrew Form and Brad Fuller. So should we hope they'll do something proper for it, or blame Form and Fuller as well for ruining everything in the world? The Reporter says they plan to be "meticulous" about the remake, but come on. Even if you're making a shot by shot remake of a classic—hello, Gus Van Sant!—we all know that never really works anyway.
Confession: Michael Bay is an alum of my college, where we both had the same film professor and probably the same disdain for our classmates who took themselves way too seriously. So I've always begrudgingly respected the guy, for figuring out how to make movies that were wickedly entertaining while being incredibly mindless. And I'm pretty sure he donated enough money to the college that I got to see Lawrence of Arabia in 70 mm, which was amazing.
But this, Michael Bay, this cannot stand. He and Platinum Dunes already have their paws all over Friday the 13th and Nightmare on Elm Street, but now they're pushing the limit. The guy who brought you The Island is messing with one of the few horror movies to ever win an Oscar (for supporting actress Ruth Gordon), or ever get any kind of respect, period. They're gonna take away that image of Mia Farrow with her haircut and replace her with, let's face it, probably Jessica Alba.
Uggggghh. This is just too much to hate a movie before it even exists. I would honestly rather Michael Bay go back to directing, where he can put his unique values and lackluster sense of storytelling on his own ideas, rather than running out and ruining other people's. Seriously, is there anyone who thinks this can possibly be a good idea?
Oh, and the picture above is from a photo shoot Jessica Alba did for Latina magazine, where she dressed up in scenes from classic horror movies. Sadly, this is just about exactly what we should expect
Staff Writer at CinemaBlend
Your Daily Blend of Entertainment News
Thank you for signing up to CinemaBlend. You will receive a verification email shortly.
There was a problem. Please refresh the page and try again.