This Rotten Week: Predicting Fifty Shades Of Black, The Finest Hours, And Kung Fu Panda 3 Reviews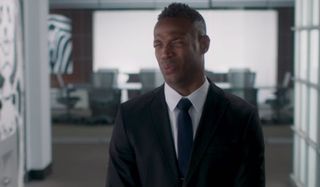 We're finally getting to the end of January – notoriously one of the worst movie months of the year – but we have three flicks coming your way and there might actually be some good stuff coming down the pike. Get ready for Fifty Shades of Black, The Finest Hours and Kung Fu Panda 3.
Just remember, I'm not reviewing these movies, but rather predicting where they'll end up on the Tomatometer. Let's take a look at This Rotten Week has to offer.
Rotten Watch Prediction
If the Fifty Shades of Grey books and movie weren't already a colossal joke, Fifty Shades of BlackSpaceballs or Airplane. Maybe this is the Wayans' Brothers attempt at meta comedy?
Here, see what I mean in the trailer for Fifty Shades of Black:
In this send up, Marlon Wayans takes on the role of the big wig, sex freak being interviewed and seducing Kali Hawk's Hannah. At no point during the trailer did I even begin to crack a smile. It looks ridiculous at best, unwatchable at worst (leaning toward the latter). The flick takes every opportunity to pander close to the lowest common denominator, poking fun at the Fifty Shades franchise with a bunch of other cultural send ups along the way. It looks like everyone submitted their jokes and then all of the jokes just got crammed in come hell or high water.
Michael Tiddes is directing after working with Marlon Wayans on Haunted House (10%). He then took a huge critical hit with Haunted House 2 (8%). If this latest is anything higher than those two, I'd be epically shocked.
Rotten Watch Prediction
Boat rescues are all the rage these days. Get a bunch of good looking guys together, through a little at-sea peril into the mix (whales, storms, whatever), have them run around on deck and have to make big decisions with enormous waves crashing everywhere and ultimately get a rescue going (or not, either way). It's what has led us to director Craig Gillespie's The Finest Hours. See dangerous storms and perilous ocean rescues in the trailer for The Finest Hours below:
Based on the book by the same name, The Finest Hours details the sea search and rescue mission that went down in the 1950s when a huge nor'easter caused a tanker to literally split in half. This movie appears to separate the action into two sets which eventually converge. We have the dudes on the boat fighting for their lives in the winter storm (led by Casey Affleck), and the group of Coast Guarders making the decision about whether to brave the elements and get out there for the life-saving (led by Chris Pine). Throw in a little love interest on the part of Holliday Grainger and you've got everything wrapped up in a feel good story with a good amount of drama.
This flick looks pretty vanilla, all things considered. It's not a knock on it, we need the stories of bravery and valor with a natural disaster backdrop. Plus there's the All-American feel of the 50's. Disney is all over this kind of thing. I think the movie performs well enough without completely busting it out of the box. Director Craig Gillespie has some wins under his belt with Lars and the Real Girl (81%), Fright Night (72%) and Million Dollar Arm (62%). The first one was a thought-provoking piece while the latter seems more like what we are getting here. It's playing it safe across the board without too many ways to diverge. Again, that's fine enough.
Rotten Watch Prediction
Quick, off the top of your head, guess how much the Kung Fu Panda franchise has made at the box office. Give up? $1.3 billion dollars worldwide. That's billion with a "b" in case you misread it or your eyes went crossed with disbelief at that number. Just unreal for a movie a panda that does kung fu, an idea that seems like it was mad-libbed together into a story. But here were are, about to be served the third chapter in this animated saga. See Po and the Furious Five back in action in the trailer for Kung Fu Panda 3 below:
The equally amazing thing about the Kung Fu Panda franchise is just how well it's performed with the critics. We've seen the animated critical numbers range all over the place. Of course, you'll get the Pixar gems every couple of years. But then there's pieces of crap like Norm of the North (0%) which came out a couple of weeks ago. Kung Fu Panda comes from DreamWorks Animation, which has obviously trended positive, but isn't exactly a total lock to bring out good flicks. They definitely put out more good than bad, but there are some stinkers in there as well.
The first two Kung Fu Pandas did just fine with an 87% and 81%, respectively. That's nearly rarified air in this space and the third is right in line. It's come out of the gate strong with an 86% through seven reviews. Does it matter what it's about? DO you care? Po needs to go somewhere he doesn't fit in and ultimately prove his kung fu skills. These guys know where their bread is buttered. Why deviate from a winner? Remember that thing about the billion? Going to push toward 2-3 billion once this franchise is all said and done.

This poll is no longer available.

Overall it was a strong week for the Rotten Watch. I hit on two of the three predictions, as all of the movies stunk in a bad way. This is one of the lowest overall weeks ever for critics. It was a grizzly showing. The one I got wrong was Dirty Grandpa (Predicted: 31% Actual: 8%), and not because I was incorrect with the tone, but just missed slightly on the score. I gave it a moderate benefit of the doubt because of the main players (Zac Efron and Robert De Niro), but even their talent proved meaningless for a film critics openly despised. A critical bloodbath for sure with reviews leveling just about every piece of negative language you can get about a flick without openly cursing it.
Meanwhile, The 5th Wave (Predicted: 14% Actual: 19%) bombed as expected. What a mess. I don't know if this could begin spelling the end for YA novels- turned movies, but there have sure been a ton of disasters in this genre. I don't know if it's causal or correlated, but there have been a ton of bummers when these love-against-the-backdrop-of-some-world-changing-event flicks get shoved down the masses' throats.
And finally Boy (Predicted: 22% Actual: 27%) is destined to be forgotten. In fact, it even took me a second to remember what the central premise of the film was when I read the title before writing the recap. A doll that tries to kill its babysitter? Yawn. Been there, done that before and nothing new came to table in this one. Critics thought it was *meh* and we never need to think about it again.
Next time around it's The Choice, Hail! Caesar and Pride, Prejudice and Zombies. It's gonna be a Rotten Week!
Doug began writing for CinemaBlend back when Terminator: The Sarah Connor Chronicles actually existed. Since then he's been writing This Rotten Week, predicting RottenTomatoes scores for movies you don't even remember for the better part of a decade. He can be found re-watching The Office for the infinity time.
Your Daily Blend of Entertainment News
Thank you for signing up to CinemaBlend. You will receive a verification email shortly.
There was a problem. Please refresh the page and try again.