This Rotten Week: Predicting Fright Night, Conan the Barbarian, One Day & Spy Kids 4 Reviews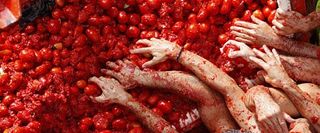 What does Hollywood when do when it runs out of ideas and the summer movie season is drawing to a close? It remakes a movie from a couple of decades ago. Then it remakes another one. Then they throw in another installment of a kid's series. And finally they chuck a love story in there for the ladies. Boom. Weekend covered. It's not inspiring, but these guys and gals have to keep eating caviar on their private islands, right?
Just remember, I'm not reviewing these movies, but rather predicting where they'll end up on the Tomatometer. Let's take a look at what This Rotten Week has to offer.
Fright Night
If I found out my next door neighbor was a vampire and systematically picking off the others in town in order to convert them into blood-sucking night crawlers, you know what I would do about it? Absolutely freaking nothing. This little burb (dump) could use a "makeover". In fact, a town of vampires might increase the resale value on a bunch of the homes in this working class (read: white trash) little hamlet. Vampires are nothing if not meticulous and neat. Do you think a vampire would keep an old refrigerator in his driveway or NASCAR flags in the window? No chance. So come on vampires, I won't put up a fight.
But in this remake of the 80's cult classic Anton Yelchin doesn't see things quite the same way. His town has neatly manicured lawns and the always bad-boy dreamy Colin Farrell might have the vampire hots for the dude's girlfriend AND mom. That's enough to head to the store, pick up some vampire-slaying equipment and get to work taking out immortal evil.
Director Craig Gillepsie will try to pay homage to the original, in both its humor and horror. He has two wildly varying film works under his belt in Mr. Woodcock (13%) and Lars and the Real Girl (81%) as well as a bunch of television's The United States of Tara (before it went off the rails). He'll have to straddle that fine line of legit horror tension and teenage ridiculousness that worked so well for a flick like Disturbia. And though it's labeled as horror, Fright Night doesn't appear to have the darker sensibilities so often found in that genre. It just looks like a fun film. The Rotten Watch for Friday Night is 59%.
Conan the Barbarian
Let's go through the checklist, shall we? Minimal upper body coverings? Check. Oversized, ornate swords? Check. Flowing yet always a little oily hair? Check. Non-sensical growling? Check. Rampant PED/ Steroid use among all male actors involved? And check. All this can only mean one thing: Conan is back!
Outside of the first few opening lines, the trailer for this movie does itself an enormous favor by limiting the talking and just pounding away at the intense music and roughly four thousand fighting scenes. In fact, this story would probably be best served to just eliminate the dialogue altogether. Who gives a crap about the story? Just give me oversized pectoral muscles and a few hundred dead bodies. (Might as well throw in a sex scene or two. Again, no speaking please).
Remaking a film series absolutely no one was asking for is director Marcus Nispel. Old Marcus has been up to these kind of tricks before. He screwed up Friday the 13th (25%) and The Texas Chainsaw Massacre (36%) ** so it makes perfect sense to hand him the reins of another middling 80's film, give him a decent-sized budget and let him go to work doing what he does best: making crap movies.
**Admittedly, no one was really asking for these remakes/ reboots either so Conan is perfect for him. His next project will probably be giving us a modern day version of The Monster Squad.
There's a lot of glitz and a lot of gloss, but in the end the trailer can't completely hide a movie that'll come up well short of any real critical praise. Like putting golden wrapping paper around a piece of dog crap, it looks pretty, but I still smell a stinker. The Rotten Watch for Conan the Barbarian is 23%.
One Day
Anne Hathaway has been in sixteen, non-animated movies. Without looking, take a guess at how many are "certified fresh" according to Rotten Tomatoes. Here's a hint: you can count them on your left hand as long as you cut your thumb off. Hathaway's track record is a perfect example how Hollywood sells a "brand" when it comes to the on screen talent. I think a non-movie person would probably argue, after looking at Hathaway's resume of critical scores, that she's a middling actress with middling talent. But I asked Cinema Blend's Katey Rich what words came to mind when I mentioned Hathaway. She said, "Princess, skinny, enthusiastic, talented and ambitious." Those words are all true and prove that Hollywood and Hathaway's "people" have perpetuated the idea that Hathaway is one of the town's bright young talents even though critics dislike 75% of her movies.
Are the movies bad because she is in them? No. I personally believe she's a really talented actress. But just make sure when you watch a trailer for something like One Day to not get caught up in Hathaway's newfound British accent and tale of unrequited, then requited, then unrequited and finally, I think requited, love with her at the center and remember she starred in Bride Wars (11%).
All this being said, One Day has the makings of a nice love story because (and probably most significantly) director Lone Scherfig (An Education - 94%) has a clue about making good flicks (has averaged 89% in his first three movies) and the story (man and woman fall in love over time), if done correctly and with grace brings the critics around fairly quickly. Not because Hathaway is in it. Her movies usually blow. The Rotten Watch for One Day is 77%. .
Spy Kids 4: All The Time in the World
Why might Robert Rodriguez continue pumping out Spy Kids movies geared toward the inane and childish when the rest of his career has shown a certain propensity for shedding copious amounts of blood, hacking limbs off and just generally killing everything and everyone in sight? Let's put it this way: Since the dawn of the twenty-first century Rodriguez has directed, in some combination written, produced, and/or directed, eleven widely-released films. The three incarnations of Spy Kids have grossed around $465 million in box office sales. The rest of his films combined? $546 million. Suffice to say these little James Bonds in trainings keep Rodriguez's closets of black hats, cowboy boots and leather jackets fully stocked.
I mean discussing this film as something any reasonable adult would ever voluntarily see is pretty much folly. I made it through 49 seconds of the trailer, right around where an evil Jeremy Piven declares his intentions to take over the world, but well after we've been introduced to Jessica Alba's as the world's hottest stepmom. It's for kids and about kids.
Critics generally loved the first two films in the series and hovered around the middle for the third installment. So it's trending in the direction we all think it will. Way, way down. There's no reason to think it'll regain any critical momentum. Hell I heard Piven say the word "Sapphire" in the trailer. It's going to blow. The Rotten Watch for Spy Kids: All the Time in the World is 26%.
This poll is no longer available.
Recapping last week...
Not a bad week for the Rotten Watch. The Help (Predicted: 82% Actual: 73%) falls within the ten percent, "I win" range. We'll take it.
30 Seconds or Less (Predicted: 57% Actual: 44%) hung tough for most of the week, but dipped just below the fifty percent mark near the end. Too bad, would have liked to take home two victories, considering:
Final Destination 5 (Predicted: 26% Actual: 57%) was way off the mark. Legitimately surprised by this one as it is yet another example of a later installment in a franchise well outpacing its crappy predecessors.
Next week Zoe Saldana turns hitlady, Paul Rudd's and idiot and I refuse to be afraid of the dark. It's going to be a Rotten Week!
Your Daily Blend of Entertainment News
Doug began writing for CinemaBlend back when Terminator: The Sarah Connor Chronicles actually existed. Since then he's been writing This Rotten Week, predicting RottenTomatoes scores for movies you don't even remember for the better part of a decade. He can be found re-watching The Office for the infinity time.