This Rotten Week: Predicting God's Not Dead 2 Reviews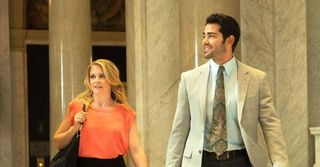 Following up the major blockbuster launch that happened last week, we have only one flick getting a wide release this time around - and if you didn't go to church this Easter Sunday, you may not have much of an interest. Get ready for God's Not Dead 2.
Just remember, I'm not reviewing these movies, but rather predicting where they'll end up on the Tomatometer. Let's take a look at This Rotten Week has to offer.
Rotten Watch Prediction
Worried you didn't see the original God's Not Dead (15%) and won't really understand the sequel? Don't be. I'm sure you'll catch on pretty quick. Hell (pun intended), the title pretty much says it all. The message for this flick is loud and freaking clear and I made it exactly 1:18 into the 2:34 trailer for this film before I called it quits.
There seem to be a heavy influx of Christian movies of late, more than I can remember coming out in wide release and I've been writing this column years. That means folks are going to the theater even if it is a niche genre. This one is preaching to one audience and one audience only, telling the story of a teacher (played by Melissa Joan Hart) who finds herself suddenly in court after controversially answering a student's question about Jesus Christ. Director Harold Cronk helmed the first God's Not Dead (15%) and also did Do You Believe? (17%), so while he might have a built in audience with the Christian film crowd, his voice and subject matter don't seem translate to professional critics. I predict this one will finish in line with his other work – possibly performing even worse.

This poll is no longer available.

Last week was a rather bad one from a prediction standpoint, though I think the tone of opinions on the movies was generally correct (for whatever that's worth). First off, Batman v Superman: Dawn of Justice (Predicted: 55% Actual: 29%) was a massive critical disappointment. Coming in at under 30% for such an anticipated and hyped flick is a borderline disaster. It doesn't look like its affecting the box office too badly, but the reaction certainly won't help the film in the long run. It won't derail what the studio has planned for the DC Cinematic Universe, but there could just be some serious problems with how they're approaching this world. Man of Steel wasn't universally loved and this one falls well below that.
Meanwhile My Big Fat Greek Wedding 2 (Predicted: 48% Actual: 25%) will be forgotten by the end of the week. I was shocked they even came out with a sequel for it. But alas, this is Hollywood, and where there's a will, there's a sequel. A follow-up coming nearly a decade after the original for a niche movie is a big ask, even for an insanely popular movie. The viewers who loved it the first time just didn't seem likely to get amped up for a return to the world of the Greek family. Judging by the reception here, there won't be a third.
Next time around we've got Before I Wake, The Boss and Hardcore Henry. It's gonna be a Rotten Week!
Your Daily Blend of Entertainment News
Doug began writing for CinemaBlend back when Terminator: The Sarah Connor Chronicles actually existed. Since then he's been writing This Rotten Week, predicting RottenTomatoes scores for movies you don't even remember for the better part of a decade. He can be found re-watching The Office for the infinity time.