This Rotten Week: Predicting Ted 2 And Max Reviews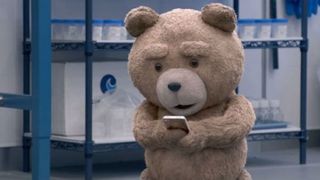 There are two very different kind of movies hitting this week. They both involve non-humans, but the similarities basically stop there. We've got Ted 2 and Max arriving in theaters - two very different kinds of best friends.
Just remember, I'm not reviewing these movies, but rather predicting where they'll end up on the Tomatometer. Let's take a look at what This Rotten Week has to offer.
POSTER HERE, LINK IT TO PREVIEW PAGE
PREDICTION RATING HERE, LINK IT TO ROTTEN TOMATOES PAGE
Rotten Watch Prediction
If my daughter's dolls ever came to life I'd have some major problems on my hands. For starters, I've tossed those things into more boxes, cursed at them when I tripped over their lifeless bodies, forgotten their names and begged my wife to throw like 20% of them away to thin the herd. I can't imagine they'd be pleased with me and their be some revenge in store. We wouldn't have the relationship forged by Ted and Mark Wahlberg.
See a true stuffed animal and friend bond in the trailer for Ted 2 below:
Ted (67%) was a not-so-surprising hit when it came out three years ago. After all, it involved Seth McFarlane basically taking his wildly successful Family Guy schtick and reinventing for the big screen with real folks and an R-rated version of Teddy Ruxpin. The rest of the humor fell right in liine with what works for Family Guy: over the top, long running and ridiculous jokes about things seemingly pulled from one's brain while incredibly high on pot (which the characters were early and often).
A sequel was a no-brainer. We could probably get infinity stories about Mark Wahlberg and his cuddly, sex-crazed teddy. This time it's about Ted getting married, wanting a kid, commissioning Wahlberg for the necessary fluids, and a court case to determine if Ted is an actual being with a soul. I think it looks fantastic for the audience to whom it's catering, and if we get any scene even in the ballpark of the white trash girl name lightning round, then you know we've got another hit.
It's not as if every McFarlane touches turns to comedic gold. A Million Ways to Die in the West (33%) came up a stinker and both from a humor and box office perspective. It's fine. I'm always a fan of going back to what works when it doesn't feel forced. This one doesn't, and it appears enough laughs still remain in Ted's story. Of course, not all critics will like it, as the humor is not for everyone. But McFarlane fans should jump right back on board. %New_Page% POSTER HERE, LINK IT TO PREVIEW PAGE
PREDICTION RATING HERE, LINK IT TO ROTTEN TOMATOES PAGE
Rotten Watch Prediction
When Little Rotten Week asked for a dog, Mrs. RW and I gave out our pre-planned and canned response we've had chambered for years. "We're sorry, honey, but mommy and daddy and are allergic. We'd love to have a dog (eye roll), but we'd just sneeze all the time and no one would have any fun." The little one tried to understand while we high-fived behind her back. So I don't know if I'm in the exact right demographic for this flick. But if you love dogs, you may get a kick out of Max.
You can watch the trailer for the movie below:
In spite of my aversion to having a pet, the trailer for Max was able to actually puncture my anti-dog emotional shell. It's not that I dislike canines - I enjoy other people's just fine. I just don't want one myself. That being said, I appreciate what the filmmakers are doing with this thing. Combat dog comes back after his handler is killed in action, and the guy's younger, disillusioned brother is tasked with re-acclimating the young pup. It appears a nice story until the kid and dog need to be Hardy Boys in order to solve some sort of crime involving a member of the deceased brother's unit. That gets a little Lassie for me.
Director Boaz Yakin helmed one of my all-time sappy guilty pleasures with Remember the Titans (73%), so I'm going to give him tons and tons of slack. That's how much I love that film, even though I recognize all of its shortcomings. He's also headed up flicks like Safe (57%) and Uptown Girls (14%), so it isn't like he hits sappy on the mark every time. I don't think this latest scores too well with critics because I suspect it takes every opportunity to go over the top with the schmaltz and "emotion" with the dog. I get why they would do it, but I just don't think it plays with critics.
From an outsider point of view, I get that it's difficult for a critic to come in and dislike a story about a cute dog and how said pup transforms the lives of the kids around him. Other movies like Dolphin Tale have pulled off critical feats. I just don't think this one does it. The "foiling a caper" aspect rubs me the wrong way and I think the same goes for critics. %New_Page% DOUG KEEP THIS AS IS

EDITOR CHANGE THIS POLL ID TO THE NEW ONE
This poll is no longer available.

A situation like the one presented to me by Inside Out (Predicted: 100% Actual: 98%) was an interesting one. I went for it and predicted it would shoot 100%. It missed because 4 critics out of 183 labeled it a subpar movie. I'm not sure what the line of demarcation is for critics when everyone should fall in line. Maybe there is no line. But when 98% of your peers label something amazing and you roll the other way, what does that say? I'm not sure. And I'm not sure if it really matters. But it's interesting because this flick was just about universally adored. I went through this with Toy Story 3 and it still surprises me today. I wanted that clean sheet bad. Didn't happen.
Meanwhile, Dope (Predicted: 85% Actual: 90%) fell right in line. This coming of age comedy drama was a complete hit with critics. This is a fantastic sign for this kind of movie. The day-in-the-life-that-changes-everyone's-life flick is one of my go-to's and adding another to the stable is always great. That this flick takes place with a racially diverse cast and in a neighborhood we don't often see in the genre, only means great things.
Next time around we catch up with two buff dudes, with the return of both Magic Mike and the Terminator. It's going to be a Rotten Week!
Doug began writing for CinemaBlend back when Terminator: The Sarah Connor Chronicles actually existed. Since then he's been writing This Rotten Week, predicting RottenTomatoes scores for movies you don't even remember for the better part of a decade. He can be found re-watching The Office for the infinity time.
Your Daily Blend of Entertainment News
Thank you for signing up to CinemaBlend. You will receive a verification email shortly.
There was a problem. Please refresh the page and try again.