SXSW Film Festival Picks Winners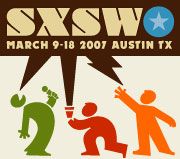 Austin's annual film and music festival SXSW has just wrapped on the film portion of the festival, with music to crank it up for the rest of the week. So they've just announced the festival's big winners for 2007.
The odd thing is that I spent three and a half days covering the busiest chunk of the film side at Austin's annual SXSW film and music festival, and I somehow managed to avoid every film they picked as a winner. My excuse for this is that though many movies are screened during the festival, few of them are actually part of the competition. You've got to make choices, there's simply no way to see everything, and most of the competition films just never interested me. The exception to that is Audience of One, which won the Special Jury Award for documentary features. That's the one winner I was keen to see, but I just couldn't figure out a way to fit it in.
So here's what South By South West says was the best of the 2007 fest. Take a look and keep an eye out for them to make a splash elsewhere:
REEL Shorts :
Special Jury Award - Clear Cut, Simple / Director: Vineet Dewan
Winner - Pop Foul / Director: Moon Molson
Animated Shorts :
Special Jury Award - One Rat Short / Director: Alex Weil
Winner - Tragic Story with a Happy Ending / Director: Regina Pessoa
Experimental Shorts :
Special Jury Award - The Lonely Lights. The Color of Lemons. / Director: Benjamin M. Piety
Winner - 27,000 Days / Director : Naveen Singh
Music Videos :
Special Jury Award - Constantines, 'Working Full-TIme' / Director: Drew Lightfoot
Winner - Thom Yorke, 'Harrowdown Hill' / Director: Chel White
Texas High School Competition :
Special Jury Award - Daily Routine / Director: Adela Escobar
Winner - Murder for 9 Points / Director: Brandon Day
Documentary Feature:
Special Jury Award - Cat Dancers / Director: Harris Fishman
Special Jury Award - Audience of One / Director: Michael Jacobs
Winner - Billy the Kid / Director: Jennifer Venditti
Narrative Feature :
Special Jury Award - Frownland / Director: Ronald Bronstein
Special Jury Award - Orphans / Director: Ry Russo-Young
Winner - Itty Bitty Titty Committee / Director: Jamie Babbit
Emerging Visions:
Winner - The Price of Sugar / Director: Bill Haney
Documentary Feature:
Winner - Run Granny Run / Director: Marlo Poras
Narrative Feature:
Winner - Skills Like This / Director: Monty Miranda
Your Daily Blend of Entertainment News
Thank you for signing up to CinemaBlend. You will receive a verification email shortly.
There was a problem. Please refresh the page and try again.