Salma Hayek Gets Sexy, Badass And Trigger Happy In New Everly Trailer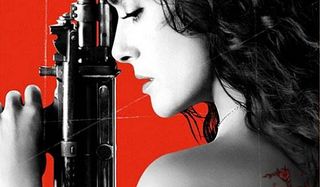 If you ever wondered what a film starring Salma Hayek, playing a sexy assassin holed up in her apartment while a grueling gauntlet of gangsters and other assorted ne'er-do-wells burst their way in, shooting up the place, well, then first off, congratulations for having such a specific vision. Secondly, it seems that your eccentric curiosity is about to be sated, because the new trailer for Salma Hayek's new film, Everly is basically everything that was just described.
Making its explosive debut, Everly depicts the venerable vixen, Hayek getting back to her ass-kicking action roots in a completely original setting. It's like a deliciously demented amalgam of Home Alone and the Kill Bill series. At 48 years old, Hayek has never been hotter. (Although, you may want to check out Frida if you're up for a trip down that rabbit hole.) Everly clearly brings a clever mix of action and self-referential genre-satirical humor.
Occupying the director's chair, is Joe Lynch, an eccentric visionary and true movie geek and student of the genre game in the purest sense. Lynch's feature-length directorial efforts include 2007's Wrong Turn 2: Dead End and 2013's satirical look at a group of live-action role-players, Knights of Badassdom (aka, "best title ever"), which starred True Blood's Ryan Kwanten, Game of Thrones' Peter Dinklange and Serenity's Summer Glau. Lynch has clearly brought his fanboyish proclivities to Everly, and according to him, this film represents the first time that he's made a movie that he considers truly his. As he tells Daily Dead:
Interestingly enough, the project, co-written by Lynch with Yale Hannon, was actually conceived as a vehicle for Kate Hudson, who was briefly attached to the film. However, according to Lynch, Hudson left the project when she would begin her run on TV's Glee, leaving the film without a star. That is, until the script found its way to an enthusiastic Salma Hayek. Once that bit of serendipity occurred, Lynch claims that the film had finally found the "emotional component" that it was seemingly missing. Hayek's portrayal of main character, Everly would more effectively convey the aspects of the character that defined her state of mind, with Lynch specifically referring to living life "estranged from your mother." Indeed, the trailer depicts Everly attempting to alleviate that guilt by setting aside a great deal of cash that was clearly stolen from some angry, seedy characters.
Everly looks to decimate any hope of getting back her deposit when the film hits theaters today!
Your Daily Blend of Entertainment News
Thank you for signing up to CinemaBlend. You will receive a verification email shortly.
There was a problem. Please refresh the page and try again.