Kate Hudson Does A Killer Matthew McConaughey Impression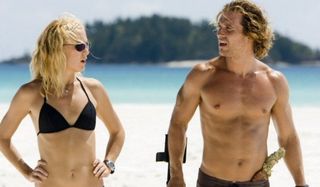 There's just something about Matthew McCounaughey's sultry Texan accent that other actors love to impersonate. Kate Hudson is the latest star to replicate the True Detective star's drawl and it's simply sensational. You can check out a clip of her homage below. It's the best thing you'll do all Tuesday.
Kate Hudson and Matthew McConaughey starred opposite each other in a variety of romantic-comedies that threatened to define his career. Not that there would have been anything wrong with that! It's just that you can't really argue with the fact that his appearances in How To Lose A Guy In 10 Days and Fool's Gold didn't really have the nuanced complexity of his turns in Dallas Buyers Club or Mud. Either way the camaraderie between Kate Hudson and Matthew McConaughey has always been obvious and contagiously joyful, which was always perfect for the genre. Hudson's story came from the time that the pair of blonde bombshells were getting their licences for scuba diving in Australia ahead of Fool's Gold. It's hard not to be immediately enamoured with Hudson after her rather superlative homage. It could easily be the best one that has even been delivered too.
However she does have some pretty intense competition for the coveted spot. First of all there is Matt Damon, who earlier this year vowed that he would never do an impression of Matthew McConaughey ever again. This devastating news came during his appearance on The Late Show With David Letterman, and you can see his farewell effort below:
But another contender for the accolade also entered the ring in January in the unlikely shape of Breckin Meyer. The actor admitted that he has been fascinated with Matthew McConaughey ever since he played his brother in 2009's Ghost Of Girlfriends Past on Conan O'Brien's talk show. He then broke-down the key compartments of a Matthew McConaughey impression that proves he has analysed his mannerisms to a rather extensive point.
Despite the brilliance of this clip, I still prefer Kate Hudson's impression though.
Your Daily Blend of Entertainment News