Everly Trailer Shows Salma Hayek As A Total Badass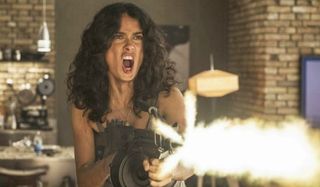 Is Salma Hayek the next great female action star? According to the first Everly trailer, it seems that someone's trying to make it so. The Mexican bombshell is taking a note from Scarlett Johansson and bringing down her enemies Black Widow-style in the explosive first footage from her low-budget action film.
Salma takes the title role, which is that of a prostitute turned informant fighting for her life after a yakuza crime boss sends a small army of assassins to kill her on Christmas. She looks like a total badass as she fights to survive against the hordes of "Crazy 88"-looking gents and a few sai-wielding ladies of the night. It has a few elements of The Raid and Lucy sprinkled in for dramatic effect, but director Joe Lynch saw Die Hard as a heavy inspiration for this film.
Back during Fantastic Fest, Lynch discussed the inspiration behind the film with Entertainment Weekly stating:
And that's what makes Everly so interesting. The entire film is shot in one single room and the camera never leaves the space, even when Salma goes off to throw a grenade in an elevator filled with enemies and a bazooka threatens to obliterate the entire setting. The film already screened for critics during Fantastic Fest and early reviews have praised this cinematic technique. "It keeps us suitably engaged because we never ever know what's going to come through that door next," wrote /Film.
Movies like Everly remind us how far we've come in the fight to get more badass cinematic heroines on the big screen. While we've been waiting ever so patiently for a female superhero movie -- wherefore art thou, Captain Marvel? -- it's titles like these that will help make the wait a whole lot easier. Salma joins the ranks of fellow modern female big screen ass-kickers, like Emily Blunt and Zoe Saldana. This past year was a major victory for both of them: Blunt proved herself to be one tough lady slicing and dicing alien invaders alongside Tom Cruise in Edge of Tomorrow, while Saldana donned yet another awesome sci-fi character as the deadliest woman in the galaxy in Marvel's big hit Guardians of the Galaxy. Of course, we'll always have Jennifer Lawrence's Katniss Everdeen, that is until she hangs up her bow when the final Hunger Games film hits theaters next year. Men still dominate this space, and although Everly is not as large a move in the right direction as the bigger blockbusters, it's impactful nonetheless. And Salma's male fans will no doubt get a kick out of seeing her set the world on fire...often times literally.
Everly will be released on January 23, 2015.
Your Daily Blend of Entertainment News
Your Daily Blend of Entertainment News
Thank you for signing up to CinemaBlend. You will receive a verification email shortly.
There was a problem. Please refresh the page and try again.