Sam Raimi Admits He Hasn't Seen The Amazing Spider-Man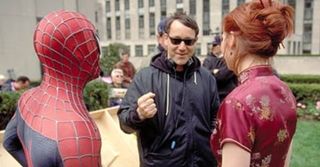 Sam Raimi has always seemed like a really, sincerely nice guy. I know that's kind of a crazy thing to say about a famous person you've never met, much less someone who has been operating in Hollywood for a long time and who has probably learned that you can't be nice around there without getting totally trampled. But don't you know what I mean? If you had to ask a bunch of Hollywood directors to help you move, it feels like Raimi would be the guy who would actually help you out-- or at least be honest about not doing it, and not just flake out at the last minute.
At the very least, he's friendly enough not to say anything mean about the direction of the Spider-Man franchise after it moved on without him-- while also admitting he hasn't worked up the guts to see the movie yet. Talking to The Huffington Post's Mike Ryan, Raimi talked about how big a fan he is of all the people involved in The Amazing Spider-Man before confessing he has yet to see it:
From there he does the more typical Hollywood thing of wishing Marc Webb the best and praising his work, though secondhand-- "I hear that he ran with it and succeeded and made a brilliant picture." But all this makes me wonder what it will take for Sam Raimi to actually work up the guts to see the movie. You would think that, with Oz The Great And Powerful behind him, he would be pretty happy to have moved on to a non-Spidey phase of his life. Does he need to wait until the Evil Dead remake, to have another franchise he created that's been transformed by someone else out there, before working up the courage? You are welcome to provide your encouragements in the comments.
Staff Writer at CinemaBlend
Your Daily Blend of Entertainment News
Thank you for signing up to CinemaBlend. You will receive a verification email shortly.
There was a problem. Please refresh the page and try again.