Sam Rockwell Will Be In Duncan Jones' Mute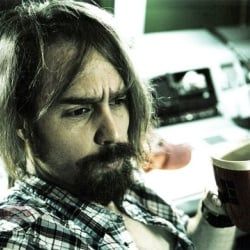 UPDATE: You may have read about this on CHUD during the Tribeca Film Festival, but hey, we have quotes!
Last week word got out that, for his next project, Moon director Duncan Jones would be adapting the non-fiction book Escape from the Deep, the story of a group of men who escaped from a sunken submarine. But when I talked to him later that week during a roundtable interview for Moon, he was much more focused on his long-planned project Mute-- and revealed that Sam Rockwell will likely be part of that film too.
No, he won't be starring in it, but you can probably count on seeing Rockwell's face in the futuristic thriller movie that Jones compares to Blade Runner in tone. To explain why Rockwell will be in it, though, Jones gives up a MAJOR SPOILER FOR MOON, so don't read ahead if you don't want to know.
"I wanted to get Sam to come and do a cameo in the next film. We're going to do a cameo where he does an epilogue scene that explains what happened to Sam when he got back to earth [at the end of Moon]. That's going to take place in the next film. "
Jones says he thinks Mute will happen well before Escape from the Deep, given that actors are reading the film's script already. Those of us who have already seen Moon know that Jones, who co-wrote the Mute screenplay, has a singular vision of the future. I can't wait to see what he comes up with.
Staff Writer at CinemaBlend
Your Daily Blend of Entertainment News
Thank you for signing up to CinemaBlend. You will receive a verification email shortly.
There was a problem. Please refresh the page and try again.