Sam Worthington Predicts A Sex Scene For The Extended Avatar Cut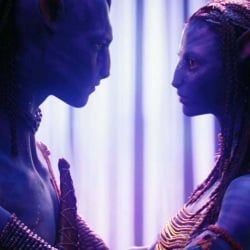 Surely by now you've heard that on August 27 Fox plans to re-release Avatar in theaters, including 8 extra minutes of footage cut from the original theatrical release. And you probably also remember all the chatter about the extended sex scene between Jake and Neytiri, in which connecting their braids leads to a whole lot more under the iridescent trees. So you assume that the sex scene will be one of the first things to make it back in, right? So does Sam Worthington.
Talking to MTV, Worthington joked that Cameron has 8 hours of extra footage he could add to the film, but speculated on what we might actually expect to see:
Everyone who thinks Avatar was too long to begin with could probably care less about what's going to be added, but the Na'vi faithful-- myself included-- will be all over this extra footage. Come on, aren't you dying to see the exact moment where Na'vi sex goes from hot to just plain creepy?
Your Daily Blend of Entertainment News
Staff Writer at CinemaBlend