Samuel L. Jackson's Kite Remake Finds Director To Replace The Late David R. Ellis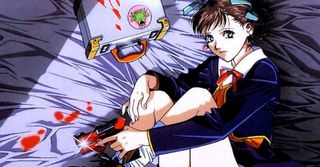 After two decades working as a stunt man in movies like Smokey and the Bandit, Scarface, and Road House, David R. Ellis moved into the director's seat on the animal-centered Disney movie Homeward Bound 2: Lost in San Francisco. From there he went on to helm a string of movies that blended horror and action, but undoubtedly is best known for the willful insanity that is Snakes on a Plane.
Ellis' next venture, which reunited him with Snakes on a Plane star Samuel L. Jackson, was similarly wild and ambitious. In 2011, word hit that he was developing a live-action remake of the 1998 anime Kite. Unfortunately, Ellis died earlier this month, leaving the future of this remake uncertain. Preproduction for principal photography in Johannesburg, South Africa, was already underway, so producers scrambled to find a replacement for Ellis. Deadline reports they found one in South African director Ralph Ziman, who helmed to 2008 action crime-drama Gangster's Paradise: Jerusalema.
Speaking to the change in directors, Jackson offered:
This new Kite centers on a young woman named Sawa, who lives in a dystopia caused by economic collapse. There a corrupt security force engages in human trafficking, bringing girls into prostitution for their financial gain. But Sawa's story centers on her quest to track down the murderer of her beloved father, who was a cop. Aiding her in this search is her dad's ex-partner, Karl Aker. Baby-faced 19-year-old India Eisley of The Secret Life of the American Teenager will star as Sawa, while Jackson will take on the role of Aker.
Kite's production will take off this month.
Your Daily Blend of Entertainment News
Staff writer at CinemaBlend.