Sandra Bullock Jumps Into Action After Extra Collapses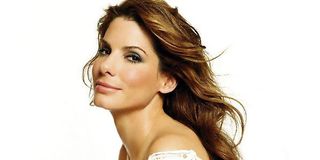 Sandra Bullock is not only the producer and female lead of Our Brand Is Crisis, but also is great in an actual crisis. She proved her ability to stay cool, collected, and useful when an accident hit the set's shoot in New Orleans.
TMZ reports it was a steamy day in Louisiana when a background actor passed out on location of the David Gordon Green dramedy Our Brand Is Crisis. Photos--which you can see on TMZ's page--show none other than Sandra Bullock rushing to the extra's side. There, she administered water, fanned the fallen woman, and made sure she was out of the unrelenting sun. In one photo, Bullock's co-star Billy Bob Thorton can be seen looking on from a few paces away.
The reason for the background actor's accident seems to have been heat stroke, since the extras were required to wear warm weather clothes in New Orleans' hot, sunny weather. There's no report on the fallen extra's current condition, but she was picked up by emergencies services to make sure all was well. This incident occurred on Sunday, October 26th. Monday the shoot went dark, but by Tuesday, production had resumed.
Our Brand Is Crisis is a narrative film inspired by the documentary of the same name which shined a light on the how American political strategists influenced elections in Bolivia. The Rachel Boynton-directed doc found a fan in actor/producer/writer/director George Clooney. In the spring of 2007, the Renaissance Man who has turned real live dramas into critically heralded movies like Argo, Monuments Men and Goodnight and Good Luck turned his attentions to transforming this doc into his next producing project.
Peter Straughan, who previously penned the adapted screenplay for another Clooney vehicle The Men Who Stare At Goats, was called in to write the script. In the winter of 2013, Our Brand Is Crisis re-emerged with word that Sandra Bullock was in talks. By the August of this year, she was on board to play 'Calamity' Jane Bodine, a manipulative and hard-boiled American political consultant who uses the soundbites of great men as a weapon.
Joining Sandra Bullock and Billy Bob Thornton in Our Brand Is Crisis are Anthony Mackie (Captain America: The Winter Soldier), Scoot McNairy (Argo), and Ann Dowd (Compliance.) Production is ongoing, and no release date has yet been set. Currently unknown is whether or not Clooney has saved a role for himself in the film.
To see a trailer of the documentary Our Brand Is Crisis, click to page 2.
Your Daily Blend of Entertainment News
Staff writer at CinemaBlend.