Say Goodbye To Revenge Of The Nerds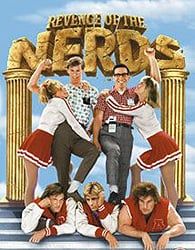 You know that Revenge of the Nerds sequel that was slated to come out next summer? Well, it's not going to happen. Try not to hyperventilate too much over the tragic news.
According to Variety, Fox Atomic pulled the plug on the fledgling remake two weeks into filming, because the results were less than impressive. Atomic's Peter Rice found the dailies disappointing and said the film felt smaller than the type of movie he wanted to make. That's gotta hurt.
The film, directed by Kyle Newman, was set to star Katie Cassidy, Jenna Dewan and Dan Byrd. But really, does the world need another crummy remake? The 1984 version about nerds vs. frat boys was cute enough in its own right, and even spawned a sequel in 1987.
Comedies this year haven't exactly been on a winning streak. A few months ago, the big-budget Jim Carrey/Ben Stiller vehicle Used Guys got tossed out the window, and then the same fate happened to Deck The Halls, starring Danny Devito and Matthew…wait, my bad. No such luck on that one.
Your Daily Blend of Entertainment News