Scarlett Johansson Wishes She Was Judy Garland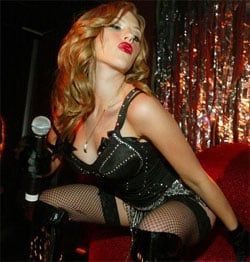 Scarlett Johansson released two albums, in which she sings no less (as if a pretty girl would play the guitar), and people didn't hate them as much as you'd expect. So blame those people when Scarlett Johansson plays Judy Garland, because now she's convinced she's a vocalist.
Talking to Spinner Scarlett revealed that she's always wanted to do musicals and as a youngster taking vocal lessons, she always dreamed of being Judy Garland. By that I'm pretty sure she means she wanted to sing in movies, not that she wanted to grow up to be an abusive, pill-popping, alcoholic.
The reason you should care is that ScarJo may now be looking for a musical to do. She's excited that musicals are making a comeback in theaters and says of her dream to sing on film, "It's nice that I maybe have a chance to do it." That doesn't mean she'll play Judy Garland, but it doesn't sound like she'd turn it down either. Luckily, she's probably too late. Back in March we heard that The Weinstein Company was making a Judy Garland biopic with Anne Hathaway as Garland. Not only does Anne sort of look like Judy, unlike Scarlett she's capable of pulling off a fair approximation of Garland's amazing voice.
Anne's a good Judy Garland backup plan but if anyone ever gets serious about making her life into a movie, then without a doubt, Zooey Deschanel should really already have this part locked up. Come on, haven't you seen Elf? Give Scarlett something else to sing about. She's pretty far down on the "right to play Judy Garland" starlet list.
Wise up Hollywood. Here's your audition:
Now here's how badly Scarlett Johansson would mangle it:
And here's a more than adequate Anne Hathaway:
And here's the real deal, you tell me who's closer:
Your Daily Blend of Entertainment News