The Score Board Listens To X-Men: Days Of Future Past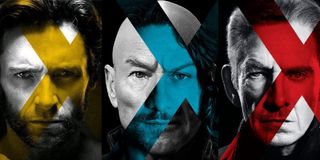 While the average audience member might not automatically process this, the overall sound of a film is pivotal to our enjoyment. When it comes to composers, it's almost as if they're engineering their own films away from the filmmakers, with elevated action, moody drama and swooning romance. What's unique is hearing the music of the film, then heading home and hearing it on your own. The mark of a great composition is that it complements the movie perfectly, but on an independent listen, it creates new images all its own inside your head.
This week, we're listening to X-Men: Days Of Future Past, from composer John Ottman, a frequent Bryan Singer collaborator. There's much to discuss, and some of it may be vaguely spoilery, though we'll try not to mention any plot details.
Who's Responsible?
Ottman has collaborated with Singer as far back as Singer's first film, Public Access. Ottman not only composes the music for all Singer films, with the exception of the first X-Men (he was off directing Urban Legends: Final Cut), but he works as an editor on them. Other films he has scored include Halloween H20, Cellular, Kiss Kiss, Bang Bang, Fantastic Four, and this year's Non-Stop.
What's That Sound?
X-Men is the rare franchise that has utilized a different composer and soundtrack each time out. John Ottman's music for the second film is a standout, a brassy, rousing superhero score that differs from Michael Kamen's more complex, melodic take in the first picture. John Powell eventually came on for the bombastic sound of X-Men: The Last Stand while Henry Jackman introduced a totally baller Magneto theme for X-Men: First Class. If you had to ask someone what the signature sound of these films would be, thanks to endless cable airings, they would go with the main theme from Ottman's X2: X-Men United score.
For Days Of Future Past, that theme returns, this time beefed up by some Zimmer-ian electric guitars. The new steroidal sound is actually pretty awesome, and diehards who have listened to the sound of that second film constantly had to be geeked out hearing a new version score the opening to Singer's latest.
Unfortunately, the rest of the composition fails to distinguish itself beyond that, relying on apocalyptic motifs like downbeat crescendos and eerie soundscapes. The way Ottman employs that original theme interwoven with the new score suggests the older film is almost under attack, an interesting idea carried out with only a small dose of originality. Or sometimes none at all. Take a listen to Hope (Xavier's Theme), one of the few distinct compositions in this soundtrack.
Now listen to Time, from Hans Zimmer's Inception. See if you can spot a similar chord progression.
Ottman's work is mostly indistinguished in that same vein. Later in Saigon (Logan Arrives), Ottman goes with a howling electric guitar that sounds tonally off, suggesting that maybe he's taken too many Zimmer lessons. And rousing action piece Time's Up, which has the added camp factor of an over-the-top chanting choir, borrows bits and pieces from Jackman's Magneto theme. Ottman feels less like he's putting together a cohesive score than he is basically amping up trailer sequences. Which, depending on how you feel about the movie, he just might be.
Standout Track
Since I already mentioned the main theme, I'd call attention to the slinky, surprising Springing Erik, a jaunty little caper song that accompanies the break-in to free Magneto from bondage. You don't hear it much in the film, but it helps set a mischievous tempo that sets it apart from the rest of the movie's otherwise-high stakes.
How It Plays Within The Movie
Bryan Singer's never been one to spotlight the scores to his films, most of which improve on a solo listening. But X-Men: Days of Future Past is Singer's most crowded and complex film, which means there's tons of characters, many of whom speak, and several standout action sequences that obscure John Ottman's work. Near the downbeat action climax, some of the themes resurface a bit more clear, but in the first two acts of the film they're practically absent.
Perfect Listening For
It's not exactly 100% full throttle stuff, so Days Of Future Past isn't going to put that necessary spring in your step when you put on your IPod. It's probably best for cleaning out the attic, when discoveries of long-lost material is accompanied by the appropriate awe.
What's In My iPod?
-Mychael Danna, Transcendence: I'm trying to get into Danna's blockbuster-y work in this film, which otherwise lacks definition. Maybe it'll click for me soon, but I'm not entirely certain.
-Rolfe Kent, Dom Hemingway: This is one of those poppy, unpredictable compositions, a cocktail of rock, electronica and hip hop Euro-dubstep. I actually haven't seen this film, but each track seems to paint its own David Holmes-y picture.
-Guido & Maurizio Angelis, Violent City: Also known as Violent Rome (or the more poetic Roma Violenta), this hard-boiled poliziottesco score is slinky, mysterious stuff, chill relaxation anthems combined with heavy-guitar thrash action scoring.
Your Daily Blend of Entertainment News