Screenwriter Eric Roth Reviving Ripley's Believe It Or Not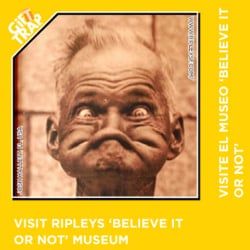 The last time we were reporting on a possible film based on the life of Ripley's Believe it or Not founder Robert Ripley, we were wondering is Tim Burton would decide to make Sweeney Todd first. Not long after that Burton bailed on the project entirely, and star Jim Carrey wasn't far behind him, leaving the long-gestating project dead in the water just weeks before it was supposed to start production.
Now, almost four years later, we're witnessing a resurrection. Remarkably enough Jim Carrey is still interested, and now Deadline reports that Paramount has brought in Oscar-winning screenwriter Eric Roth (The Curious Case of Benjamin Button, Forrest Gump) to revamp the script. Roth just finished adapting Jonathan Safran Foer's Extremely Loud and Incredibly Close for the movie that will star Sandra Bullock and Tom Hanks, so he's both free and still a very prestigious name to have attached to your film.
Incredibly, the original movie had been greenlit at $175 million, the kind of pre-recession figure that sounds almost comical today (Tron: Legacy, for example, cops to a budget of $170 million, though that one likely cost much more.) It's safe to assume the new one will come in at a much, much lower budget this time, though given that it tells the story of Ripley's journeys all over the world to discover unusual people and places, it'll still probably look pretty spectacular. Coming off critical acclaim for his I Love You Phillip Morris and a return to hosting SNL, Carrey is inching his way back up toward major career success; if he's this committed to Ripley's, maybe it really is the right project to keep the momentum going.
Your Daily Blend of Entertainment News
Staff Writer at CinemaBlend