The Secrets Behind Tron: Legacy's Sound Design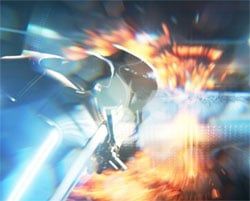 You all know this movie is coming out next Thursday at Midnight. In fact, most of you, myself included, already have our 3D IMAX tickets purchased and are marking X's on the calendar as the days pass. Though their target audience is well aware of the film's release, that's not stopping Disney from putting out even more interesting content from TRON: Legacy to keep us ever chomping at the bit.
This latest release is an in-depth look, as in-depth as you can get in ten minutes at least, at what it took for the sound design team to put together this new world known as The Grid. Heads of departments all have their say here and give us an inside look at each and every aspect from production dialog, to ADR, and even the soundtrack by Daft Punk gets a mention. Watch below courtesy of Sound Works Collection.
Early reviews haven't been 100% positive, but the majority have been and even if this movie was bad, which it won't be for anyone who knows what they're getting into, it'll still be one of the best looking and sounding films of the past decade.
Your Daily Blend of Entertainment News