See Adam Sandler In Sayonara Davey And Dog's Best Friend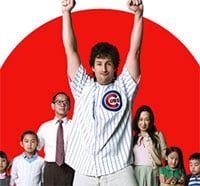 Judd Apatow and Adam Sandler really seem to be having a lot of fun with Funny People, and not just Funny People but in inventing viral marketing to go with Funny People. Earlier today we showed you the first in a series of clips from fake movies made by Sandler's George Simmons character, in which his head is digitally plastered onto the body of a baby. Now George Simmons has his own website, and it's loaded with more fake content from his fake movies, most of which are either wildly offensive or patently ridiculous. Laugh your ass off over at George-Simmons.com.
Below we have the first two clips available there. In the first Sandler appears to be a baseball player living in Japan, where he fixes the marriage of The Hangover's naked Asian gangster Dr. Ken by agreeing to fuck his wife. In the second clip, Sandler seems to be doing a riff on Turner & Hooch. And as a teaser of what may still be to come, the site is also loaded with movie posters from fake movies we haven't yet seen video from. Included in those posters is Mer-Man, in which Sandler appears to have gills, a buddy comedy called My Friend is a Robot with Owen Wilson, and Code Green in which he seems to be on a campout with The Rock.
See the clips and the posters below. Watch George-Simmons.com closely for more Apatow/Sandler insanity in coming weeks.
Image 1 of 9