Seizing Glory On The Set Of 300: Rise Of An Empire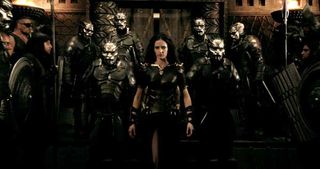 When Zack Snyder's 300 was released back in 2007 it proved to be an absolute goliath at the box office. Featuring a new and distinctive visual style that involved the use of a lot of green screen to create a more comic book-like effect, the film shattered March box office records of the time with a $70 million opening, and ultimately made more than $450 million globally.
Now, after many years of development, the movie's sequel, 300: Rise of an Empire, is finally nearing its release date. But while we're still a couple of months away from seeing it in theaters, back in the summer of 2012 I got a special sneak peek at the film when I got to fly to Sofia, Bulgaria and, along with a small group of other movie journalists, had the chance to visit the set.
Based on a script by Snyder and Kurt Johnstad, who also co-wrote the first movie, the sequel is inspired by the real Battle of Artemisium, the great naval battle between the Greeks and the Persians that was fought concurrently with the Spartan battle at Thermopylae. The story will follow the tale of Athenian general Themistokles (Sullivan Stapleton) as he works to unite the armed forces of Greece against the invading Persian forces. The film will also delve into the history of Xerxes, the god king of Persia (played by the returning Rodrigo Santoro), and introduce Artemisia (Eva Green), the commander of the Persian army who is fueled by vengeance against the Greeks.
It was that vengeance that was at the center of what we actually got to watch being filmed. Set on board Artemisia's ship, the first version of the scene featured Green emerging from behind a curtain and being followed by armed guards. Shouting to her men about the urgency of defeating Greece she proclaimed, "Show no mercy! Give no quarter! Today the last of their ships will be destroyed. Multiple takes were done of the scene, all with slight variation. At first the final line was merely whispered, while in later takes it was shouted with authority. The last version that was shot actually featured no dialogue at all, and weirdly enough it was that one that Murro seemed to like the most.
Snyder's 300/ will long be remembered for its unique visual style (as well as loud proclamations regarding a certain Greek city-state), but for sequel director Noam Murro that is both a blessing and a curse. As the man responsible for the overall look of the movie, the filmmaker had to find a way to both maintain an aesthetic consistency while also being sure to leave his own artistic stamp on the material.
"I think we're guests to a certain extent, Murro said when asked about the challenge. "I have responsibility as a guest to honor the house. I remember when 300 came out and it was just one of those things you just went, 'What the fuck is this?'… Part of what makes this interesting, I think, from a thematical point of view, from a visual point of view, from any point of view really, is this is not a, this is a second story to a building. This is not a copy of suburbia. We're not just building Type A building again. We're building a second story to something that is complex."
Of course, as a co-writer and producer on the film, Snyder has also left his distinct mark on the sequel, and his presence behind the scenes inspired the new director. Most important in Murro's mind, however, is that the Man of Steel filmmaker let him make the movie that he wanted to make. "He gives you the freedom and the wisdom and, really, if you pressed me I couldn't tell you one bad thing about that relationship."
While the hook of the film's aesthetic may be the extensive use of green screen, there was still plenty of production design work to marvel at on set. The first stage we visited featured a fully erected Athenian village, complete with multiple stone houses, but the big showstopper came later in the day when we got to see the set featuring the exterior of Artemisia's ship (separate from the interior set that Green was seen acting on). While the production team only constructed the front half of the vessel, it was still a massive build that completely took over the spacious stage where it was housed. In addition to being gigantic, the boat was beautifully detailed, featuring a huge winged figurehead on the bow and oar holes designed to look like masks of the elite Immortals (called protosamurai in the sequel).
Murro even found that there was a degree to which working in green screen environments added an interesting edge to the actor's performances. The director admitted that there were moments on set where the chroma key made things very difficult, but there were equally others where it actually became liberating.
"There is an upside of it, is that it feels like theater," Murro said. "So you really are left with an effect of what acting is and that's the beauty of it. You can really work on that and really feel that and the other side of that is you have to imagine everything."
It's a scenario that one could imagine any actor finding extremely difficult, so it's fortunate that the production has brought together a cast of talented performers. Stepping into the leading man position vacated by Gerard Butler, Australian actor Sullivan Stapleton is the central protagonist of the new movie, and according to the director as soon as he came in to audition for the role of Themistokles he was named the only choice for the part. "He came into the room, and I said, 'I'll never hire anybody but him,'" Murro told us when asked about choosing the actor for the role. "He was it, the instant, almost an instant thing."
Rather than just being a carbon copy of King Leonidas, Themistokles is a whole different kind of Greek warrior. While the Spartan leader was all about ultimate displays of strength and brawn, Stapleton's Athenian is much more of a thinker. "He's a brilliant tactician and basically has to unite all of Greece," Stapleton told us during an interview, dressed in full costume. "He's quite the politician." Like Leonidas, Themistokles also has an incredible level of patriotism and pride in his country, but sometimes that can get him in some trouble, as Stapleton says that the character's greatest weakness is his arrogance.
As the film's female lead and one of the central antagonists, Eva Green plays one of the most crucial roles in the plot, but just because she's a member of the fairer sex don't expect her to be spending her time on the sidelines while all of the men are fighting. Instead, the movie actually allows the actress to fulfill one of her acting dreams: to be an action hero.
"She's not like a girl in a film, a girlfriend or a love interest," Green told us in an interview in between shots. "She has some guts. She's driven by revenge. She's a very complex character, very exciting. It's always been kind of a fantasy for me to play an action hero. I've never done that, so I had to train with swords. I love all of the Ang Lee films, the Zhang Yimou films, so it was kind of a girl's dream."
Artemisia's desire for Greek blood is what really drives her and provides her with bravery in the face of battle, but that's only part of what makes the character interesting to the actress. She is a flawed human being that has an antagonist role, but there's more to her than that.
"She's very bright, very manipulative and there's also kind of a very interesting relationship with the lead, Themistocles," Green told us. "There are many layers and you never know what's in the back of her mind. She's a baddie, but she's a cool baddie, let's say. She's human too, so that's important.
"She's a warrior, so she hides behind that mask. She had a very special relationship with her father Darius. She was raised by him. She's Greek. She had a very mysterious past and her tragic flaw was revenge. She has an issue with Greeks. She wants to get rid of them and we'll understand why throughout the whole film and also maybe the feelings that she would have for Themistocles are kinda complex."
The 300 sequel has more than a few new and interesting parts and features to play with, but still in the end has to stack up against Snyder's original film. In this realm, the director found that he had to speak to two distinct halves of the audience.
"It's got to further the story for those who've seen it, and it has got to be satisfactory for those who haven't," Murro said. "So, that's a double whammy, because if you've seen it, you don't want to go see it again. If you want to go see it again, then you go see it on your computer or whatever. So, I think the goal is specifically, to create a second layer to the movie, whether you zoom in on some portions of it or zoom out on some portions. You have a different experience."
300: Rise of an Empire will be in theaters on March 7th.
Assistant Managing Editor
NJ native who calls LA home and lives in a Dreamatorium. A decade-plus CinemaBlend veteran who is endlessly enthusiastic about the career he's dreamt of since seventh grade.
Your Daily Blend of Entertainment News
Thank you for signing up to CinemaBlend. You will receive a verification email shortly.
There was a problem. Please refresh the page and try again.