Selma Blair's Lesbian Road-Trip Movie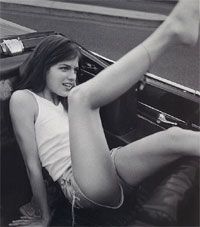 Ethan Coen is making a lesbian action movie sex comedy with Holly Hunter and Selma Blair. Go ahead and read that twice if you want. The movie is called Drive-Away Dykes, and we've just been sent a link to the film's bare-bones official site by a loyal reader named "Steve".
Apparently the movie is written by Ethan Coen and his wife Tricia Cooke and produced by Ethan. Ethan's brother Joel has nothing to do with this one, so it's not so much a Coen Brothers film as it is a Coen Family film. Rather than try to explain the wonderfully inexplicable myself, here's the official plot synopsis:
"Uptight Jamie and free-spirited Marion are lesbian friends – just friends – who leave wintry Philadelphia for a Florida vacation. On the way there, however, a flat tire on their one-way drive-away car sends them looking for a spare. The car trunk has one, but also contains a hatbox in which a severed head is packed in dry ice. Stranger still, there is a foam-lined attaché case holding a row of plaster casts…of erect penises.
The mystery horrifies Jamie and amuses Marion. It complicates a relationship already freighted by Jamie's unconfessed attraction to Marion, and by Marion's appetite for parties and casual sex. The girls argue about how to address their gruesome discovery, unaware that the owners of the car are hunting for their vehicle – and for the girls to whom it was inadvertently given.
Intrigue, comedy, and sex come to a climax as the pursuers finally catch up with the girls, while the girls come to discover how they feel about each other and about plaster penises. The shocking story behind the severed head and the phony phalluses is revealed as the girls triumph over their evil – and repressed – antagonists, and prove that love is the ultimate road trip.
And along the way there have been laughs, thrills, psychological insights, and plenty of hot lesbian sex…"
Now you're probably thinking this is some weird, low-profile side project that Ethan's working on with his wife. After all, the plot synopsis sounds like the world's greatest Skinemax movie, not a major Hollywood production. But wait till you check out the cast list. Selma Blair is set to star in the film as one half of Drive-Away Dykes lesbian duo, Jamie. Holly Hunter is also on board the film, as Marian's older ex-girlfriend. Directing it is Quentin Tarantino contemporary Alison Anders. If you don't remember her, she had a hand in directing part of QT's failed multi-director experiment Four Rooms. Since then she's directed episodes of "Sex in the City," "Men in Trees," and "The L Word". She's the real deal.
Since Brokeback Mountain there's been a kind of rush to make the equivalent lesbian movie. It just hasn't happened. Drive-Away Dykes doesn't seem to care about being the dramatic Brokeback for girls, instead it sounds almost like a crazy lesbian exploitation film. I mean, they're not exactly shy in bragging about how much lesbian sex there will be in it. Sadly, in the process they've totally hooked me. Ethan Coen? Selma Blair? Lesbian sex romp? Head in the trunk? Plaster penises? Somebody pinch me I'm dreaming. I can't wait to see what's up with this one.
Your Daily Blend of Entertainment News
Thank you for signing up to CinemaBlend. You will receive a verification email shortly.
There was a problem. Please refresh the page and try again.