Set Pics From Angels and Demons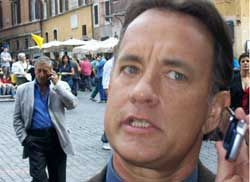 While Robert Langdon is mostly known for tracings Christ's lineage to solve the Da Vinci Code his first adventure was one crusading against Angels and Demons. Since the first Dan Brown adaptation was "hit," his subsequent work has been optioned and Angels and Demons is set for a May 2009 release date. Tom Hanks will return as Langdon and Ron Howard is directing, as you can see from the new set pics found on Badtaste.it.
The entire site is in Italian, which makes it difficult to understand what is going on. But our CinemaBlend multi-lingual scribes have assured us that these pics merely point out that Hanks' hair has returned to normal length and Ayelet Zurer is playing the sultry scientist who discovers antimatter (which the Illuminati is trying to steal to destroy the Vatican). It is yet unknown if a cell-phoned Hanks is indeed talking to the man behind him (also on a phone) in the provided picture. As of yet, the pictures do NOT show any sightings of angels or demons -- other than the filmmakers and the investors that back the project. More as it develops…
Your Daily Blend of Entertainment News
Thank you for signing up to CinemaBlend. You will receive a verification email shortly.
There was a problem. Please refresh the page and try again.