Seth Rogen Is The Hardest-Working Actor In Hollywood, By The Numbers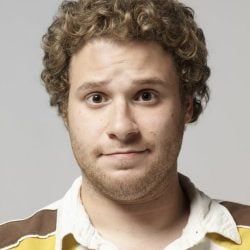 Usually the number-crunching eggheads at Forbes only venture over into the wilds of Hollywood to let us know which actors are earning the most of our hard-earned cash, or occasionally, which ones are getting paid way more than they deserve. But today they're engaging in what you might call fuzzy math, running the numbers to figure out who are the "hardest-working" actors in the business.
The way they figure it, the list consists of the actors who have receive top billing in the largest number of hit movies-- the movies have to have made more than $20 million (a pretty low bar, if you ask me) and been released between January 2005 and December 2009. The top winner may surprise you-- it's Seth Rogen, who starred in hits Knocked Up and Superbad but also lent his voice to mega successful animated films Kung Fu Panda and Monsters vs. Aliens.
The second guy on the list is even more surprising-- Morgan Freeman isn't exactly a box office draw on his own, but he's managed to be part of Wanted The Bucket List, Batman Begins and, of course, The Dark Knight. The rest of the list is more what you might have been expecting--Matt Damon, Will Ferrell, Robert Downey Jr. and Samuel L. Jackson, in that order, before you get to your first woman, the now-ubiquitous Sandra Bullock. The only other woman on the list is her Best Actress competitor Meryl Streep (all those Mamma Mia! bucks, you know), then Shia LaBeouf and Christian Bale round things out.
You can read more about all of them Forbes, which has assembled all the info in the infuriatingly complex slideshow they seem to love.
Staff Writer at CinemaBlend
Your Daily Blend of Entertainment News
Thank you for signing up to CinemaBlend. You will receive a verification email shortly.
There was a problem. Please refresh the page and try again.