Shaft Getting Rebooted Again, With One Major Change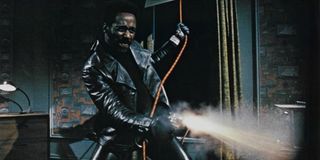 We live in an age when reboots are ordered as frivolously as a pizza by a stoner. So, it's no longer surprising to hear that a beloved franchise is going to get a modern update, even if one was previously released just 15 years ago. That's exactly the case with Shaft, which has been greenlit by New Line. However, there is one major difference from the previous Shaft films. This one will be a comedy.
The Hollywood Reporter were the first to confirm that Shaft is being remade, while they also revealed that Kenya Barris will write the screenplay alongside Alex Barnow. The pair have previously worked in television, as Barria created Black-ish, and Barnow is an executive producer/writer on The Goldbergs. Meanwhile, John Davis and Ira Napoliello are producing Shaft, with Davis having worked in this role most recently on The Man From U.N.C.L.E., though he also has a long list of other credits to his name.
Shaft was originally released in 1971 as an American blaxploitation film. In fact, rather than being simply regarded as a blaxploitation film, it is still seen as the definitive blaxploitation film. Starring Richard Roundtree as the titular character, it told the story of a private detective, John Shaft, who travelled through Harlem as he looked for the missing daughter of a local mobster.
Featuring the iconic soundtrack from Isaac Hayes, which ultimately won a Grammy Award for Best Score Soundtrack Album, Shaft is seen as a gritty, stylish, and elegantly told urban tale rife with swagger and charisma.
Because of its reputation and legacy, it was no surprise when John Singleton decided to bring Shaft to a modern audience in 2000 with Samuel L. Jackson playing the lead character. However, it was met with lukewarm reviews, and it now sounds as though New Line is looking to provide a modern vibe that mixes comedy with action. An early prediction is that it will be of the same ilk as 22 Jump Street.
Kenya Barris and Alex Barnow are perfect choices for the Shaft's new comedic tone. Both Black-ish and The Goldbergs have been warmly received by critics and audiences alike, while Barris most recently turned his writing talents to the medium of film with the upcoming Barbershop 3. Barris is also working on a movie version of Good Times. Barnow has previously written extensively for Family Guy, while he also helped to co-create Mr. Sunshine, which was led by Matthew Perry in a starring role.
Whether they'll have the requisite skills to do justice to Shaft remains to be seen, but it's clear to see why New Line has confidence in the franchise potential of the film. Now it will be interesting to see who they get for the starring role. Fingers crossed it's Kevin Hart.
Your Daily Blend of Entertainment News