Barbershop 3 Is Happening, Get The Latest Details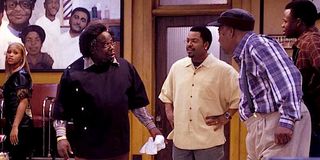 It's been over 10 years since we've last been to the Barbershop so you all know what that means. Yes, that's right people, it's time for another installment of the hit franchise starring Ice Cube and Cedric the Entertainer. Get ready because we're heading back to the South Side of Chicago to cut some hair.
While the complete details of Barbershop 3 are still being fashioned, word on the street is MGM is hiring The Best Man franchise director Malcolm D. Lee to helm the upcoming sequel. Of course we can count on seeing Cube and Cedric the Entertainer, both of whom, according to Deadline, are crafting deals to reprise their iconic roles of Calvin and Eddie, respectively. Whether or not we will see Terri (Eve) and Jimmy (Sean Patrick Thomas) rejoin the crew has yet been confirmed but due to their inclusion in the first two films, it's highly likely.
The original 2002 comedy followed Calvin, who inherited the inner-city barbershop from his father. After a unusually bitter Chicago winter, combined with disappearing revenues, he decides to sell the shop to a local sleezebag named Lester Wallace (Keith David). When he realizes how selling the barbershop has affected his local community and more importantly learns of Wallace's backhanded plans to turn it into a strip club, he decides to do anything in his power to get it back.
On a budget of just $12 million dollars, the Ice Cube-led comedy pulled in a very lucrative $75 million, hence the sequel popping up just a mere two years later. Upon seeing the continued box office strength of the franchise with Barbershop 2: Back in Business bringing in $65 on a $30 million budget, producers (which now include Ice Cube under his Cube Vision productions), are probably fairly confident in offering audiences a third film. Besides, after seeing Calvin Jr's nearly become a venue for exotic dancing as well as almost be put out of business by its rival "Nappy Cutz," we're dying to see what will happen next.
Provided the deal goes as planned, Barbershop 3 will be written by Kenya Barris (Black-ish and Are We There Yet?) and Tracy Oliver and directed by the above-mentioned Lee (who is on fire thanks to his Best Man franchise hits).
Ice Cube has a proven track record of successful franchises to his name, including the aforementioned Barbershop, which includes the Queen Latifah-led spin-off Beauty Shop, the Friday franchise, the Ride Along franchise (co-starring with Kevin Hart) and Are We There Yet?, its sequel and TV series. He most recently produced the NWA biopic Straight Outta Compton, hitting theaters Aug. 13, 2015.
Your Daily Blend of Entertainment News